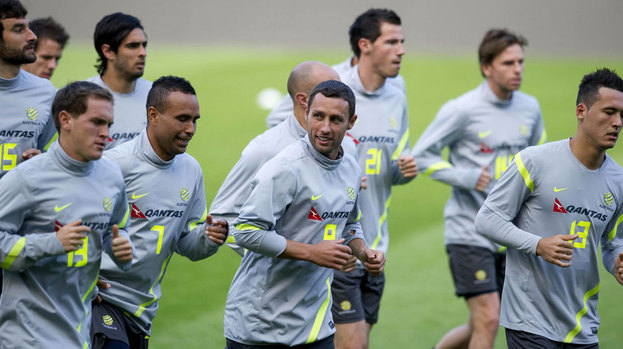 Australian sport is reeling somewhat. A disappointing medal haul at the London Olympics has dented the country's sporting ego.
Such has been the public outcry down under, Australian Olympic chiefs returned home early from the games to head a government funded inquest into what went wrong.
Tonight the Socceroos, as they are known, face Craig Levein's Scotland side at Easter Road.
It might just be a friendly, but for the Australians it's an opportunity to recoup some national pride.
However, that's not to say that Australian football is entirely confident of itself right now either.
Although they only missed out on the last 16 of the 2010 World Cup by just goal difference, a public and media backlash against the handling of the team resulted in the Pim Verbeek's departure as manager after the tournament.
The final straw proved to be the deployment of a striker-less formation in a crucial qualifier. Sound familiar?
"Verbeek was not a popular figure", says Ray Gatt, a football writer for The Australian newspaper.
"He was criticised for his stodgy, defence-orientated style. There was disappointment that we did not get to the next stage (of the World Cup). People were unhappy with how he dealt with the team."
Since then, a lot has changed.
Former Fenerbahce and Canada manager Holger Osieck has taken charge, guiding the Socceroos to within an extra-time of victory in the Asian Cup final (they lost to Japan) and into a well-placed second place position in the final stage of World Cup qualifiers. Although there are those who claim the German should be blooding more young talent into his squad, the general consensus is a positive one.
But what can we expect from Osieck's side in Edinburgh?
"Osieck is fairly rigid with a 4-4-2 system", says Gatt. "He likes the team to play out quickly from the back and concentrates a lot on the side holding possession and being quick in the transition.
"Clearly Brett Holman is a key figure for the Socceroos. He has been our best player for almost two years now and he had a great World Cup in South Africa. He has turned things around.
"He was once a much-maligned player among the fans and media, who didn't rate him at all. Now they say we can't do without him."
Indeed Holman had quite an effect on Dutch football with AZ Alkmaar last season, impressing enough to persuade Aston Villa to offer the winger a pre-contract deal that saw him join up with the Midlands club this summer.
Scotland boss Levein has already confirmed Jordan Rhodes, who has been prolific at Under 21 level, will be handed his first start against the Aussies tonight.
Blackpool keeper Matt Gilks is also set to make his international bow at some stage of the match as well.
And Levein is unlikely to be alone in using the fixture for experimental purposes, with Hearts midfielder Ryan McGowan set to make his Socceroos debut at the home of his club's city rivals.
And although both Fortuna Dusseldorf striker Robbie Kruse and Rhys Williams of Middlesbrough already have modest international pedigree, Osieck will use tonight's tie to further assess their Socceroos suitability.
But Gatt believes there still isn't enough new talent being introduced into the team.
"The problem is that the 'Golden Generation' of Australian soccer is coming to an end. The days of Cahill, Schwarzer, Neill and Kewell are just about finished and the younger guys are not stepping up.
"There was criticism of Osieck that he did not take the opportunity to call up a few younger players for this game against Scotland.
"Our representation in the English Premier League, we will only have five players this season compared to the 90s when we had as many as a dozen, and major leagues around the world is dwindling."
The two poster boys of Australian football, Tim Cahill [who has just signed for New York Red Bulls after eight years at Everton] and Harry Kewell [who has been interesting Blackburn as a free agent] have been omitted from Osieck's squad.
After it became apparent Cahill was reluctant to sign for another Premier League club there had been hope that the 32-year-old would become the A-League's latest big name addition. Instead, he switched to another fledgling league, North America's Major League Soccer.
Had Cahill chosen life down under over life in the Big Apple, would his international future have been at threat?
It's a pertinent debate with Scots, as many accuse Levein of overlooking SPL talents in favour of those playing in England.
And Gatt believes, much like his Scottish counterpart, Osieck seems to prefer selecting players plying their trade outside their homeland.
"There is only one player in this squad from the A-League, Archie Thompson, and some say he was lucky to make it. The problem is that we are still out of season.
"Our season is way too long, seven months, and it's an issue. Generally Osieck finds two or three spots in the squad when the A-League season is in full swing.
"He says he admires the A-League and that if the player is good enough he will get selected, but his selections have shown a heavy emphasis on overseas-based players."
Related articles