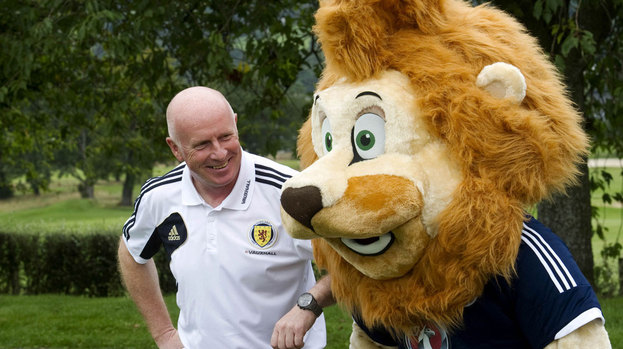 Scotland assistant manager Peter Houston has said that the national team need to be on the front foot when they face Serbia at Hampden on Saturday.
The first match of the World Cup qualifying campaign offers the chance to make a statement and Houston believes that showing Serbia they will get "in their faces" could be the best approach.
Serbia enjoy a higher FIFA ranking than Scotland but Craig Levein's right-hand man thinks a lesson learned against world and European champions can be applied this weekend.
"I thought against Spain we sat off them and gave them too much respect at first," the Dundee United manager said.
"They went ahead and we decided 'let's get in about them'.
"That's when we are at our best, playing at a high tempo. Spain was a great example, that's how we have to go about it.
"If we sit off behind the ball and allow them to knock it about, they gain confidence and get better. It's up to us to try and upset them and playing a standard of football that we're good at.
"If we can work hard and keep the ball, we have also got really good technical players who can keep possession. We have introduced young and exciting players."
Houston insisted that the best way to avoid being unnerved by playing stronger opposition was to concentrate on your own game.
"We have to worry about ourselves," he explained. "We know they are a good side but we have to put that to the back of our mind and determine how we are going to play and try to upset them, and play at a tempo that lifts the crowd and gets them behind us.
"We have played excellent teams at Hampden Park and been underdogs.
"It's about how we raise our game. We've got a talented team and it's about how we go about it.
"We'll be working at starting the game well and being on the front foot, rather than allowing them possession and allowing them to knock the ball about.
"I think we're at our best when we're in their faces and trying to win the ball back. That gives the fans a lift, and I'm sure the players can do that."
Related articles
People who read this story also read