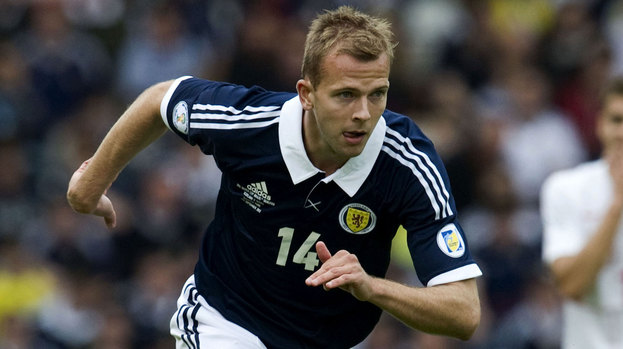 Scotland striker Jordan Rhodes has described his first appearance at Hampden as 'a dream come true'.
The 22-year-old, who recently made the £8m move from Huddersfield Town to Blackburn, came on in the 81st minute of the 0-0 draw with Serbia.
Having made his competitive debut against Cyprus last November, Rhodes scored his first goal for the senior side in last month's friendly win over Australia at Easter Road.
Supporters chanted the forward's name before he took to the field in place of Kenny Miller.
And despite Scotland's failure to win, the attacker said it was a memorable day.
"It was fantastic just to go out there" he said.
"It was a dream come true to go out there and step out in front of those fans at a World Cup campaign. It was very exciting and it doesn't get much more exciting than that.
"It is always difficult as a sub to go on because you are never up to the pace of the game.
"I just tried to run about and give it my all and try to close their back four down and force them into little mistakes here and there, and maybe I did once or twice, and as a sub you try to do as best as I can."
Scotland now face Macedonia in a game billed as 'a must-win' for the hosts.
When asked whether the pressure was on Craig Levein's men, he said: "I am not sure I am the man to speak about the situation, it is all very new to me, I am just happy to be here.
"I presume that will be a very good result against a very tough team on the day.
"They were very good, solid and tough to break down at times, so I thought it was a good performance and sets us up quite nicely going into the game on Tuesday.
"We will try our best and do what we can and hopefully that is good enough on the night."
Related articles
People who read this story also read