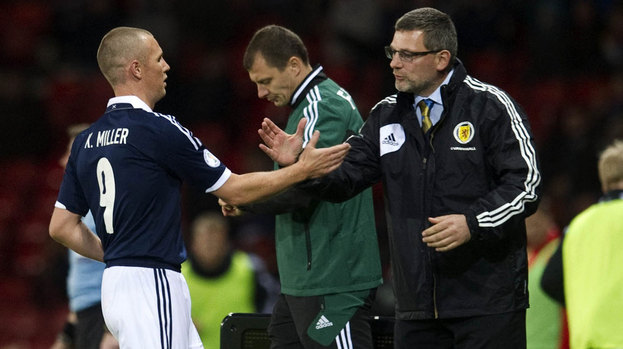 Scotland striker Kenny Miller has said that he and his fellow players fully back Craig Levein as national team manager.
Consecutive home draws in the opening two World Cup qualifiers have left Levein under pressure, with some of the support jeering the team as they left the field after the 1-1 draw with Macedonia on Tuesday.
Miller, who scored the equaliser against the fourth seeds, said that the players had to take some responsibility for the result and that levein could not be held entirely accountable.
"We believe in everything that he's doing, be it systems or personnel," the striker said.
"He freshened it up tonight and other lads were given a chance.
"We believe what we're doing is the right way to go but it's up to us to do that.
"Once we cross that white line it's up to us to go out and perform and for some reason tonight we severely under-performed."
Miller admitted that the team had fallen well short of expectation in the early stages of the World Cup qualifying campaign.
"We keep saying about progress, but a performance like that I can understand the frustration," he conceded.
"That was a poor performance and a poor result and two points from two home games is something we never thought we would come away with.
"We thought we would get at least three or four, so it is disappointing."
"We're sitting two points off the top of the group at the moment, it just means we're going to have to go away from home and get better results."
Related articles
People who read this story also read