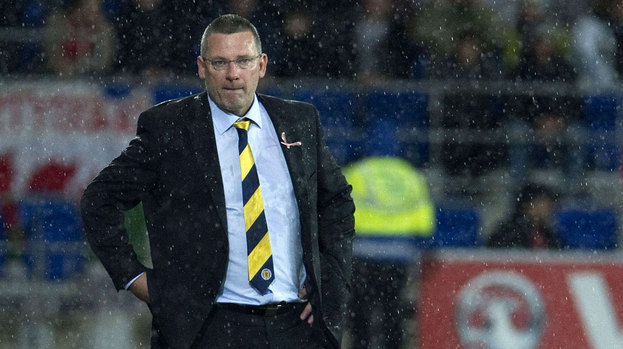 Craig Levein has said that it would be a mistake to replace him as Scotland manager, insisting that his methods will turn the national team's fortunes around.
A 2-1 defeat to Wales on Friday evening left Scotland with just two points from three World Cup qualifying matches and chances of making the finals in Brazil in 2014 are all but gone.
However, when asked if an unsuccessful start to qualifying meant that he would be replaced, Levein said he wanted to stay on as boss.
"I hope I'm given more time," he said. "I have a way of doing things that I believe is the right way. It's exactly the same thing I did at every club I have been at.
"You don't throw the whole plan away because the results haven't gone for you.
"If I thought for one second those players were not bursting a gut and doing everything they can to win then I have a problem but I don't have that problem.
"I've been in a situation before where things haven't being going well, when I was at Leicester, and it's so different to that. But I know people say the result is the most important thing and I can't argue with that. I can't stand here and say that's not true."
Levein insisted that the huge importance placed on every competitive result meant that defeat could overshadow the "good things" that had been achieved in his time as boss. He said he was not contemplating his future but was fully focused on turning the campaign around with a win against Belgium on Tuesday.
"I don't even think about that. I'm doing the best I can. There are a lot of good things happening.
"The games are so few and far between yet they mean so much. The intensity surrounding these matches is incredible.
"I'm resilient if nothing else and 100 per cent believe we're heading in the right direction. Football is about results, I admit that. But Stewart Regan is a strong man.
"I want to do this job, certainly into the World Cup in Brazil. I'd love more than anything to be the Scotland manager going there. I still believe we're capable."
Related articles