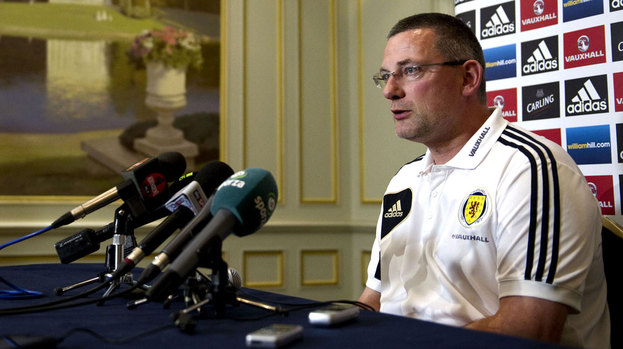 Scotland manager Craig Levein has shrugged off speculation about his future as he prepares his team to face Belgium on Tuesday evening.
Levein's position as national team manager has become a point of debate among fans after a poor start to World Cup qualifying. A 2-1 defeat to Wales on Friday left the Scots with just two points from three games but Levein refused to dwell on the questions surrounding his job.
"I keep getting asked questions about 'what if this happens?' or 'what if that happens?'," he said. "I'm not prepared at all to enter into that.
"My job is to prepare the team for the game tomorrow, they will be doing their absolute best as always and I've got every confidence in the players."
With opponents Belgium in impressive form, Scotland face a difficult match in the King Baudouin Stadium and defeat would further intensify the pressure on the manager.
"I'm not worried about that at all," Levein insisted.
"I'm concentrating completely on the match. Having my focus on anything else is counter-productive.
"It seems that every [game] is the biggest one. It's a tough ask but I've got huge confidence in the players."
A disallowed goal in the match against Wales remained a sore point for the manager. Scotland saw a goal from Steven Fletcher ruled out at 1-0 up and Levein felt that the players may respond to the setback.
"They showed in long spells on Friday that they are capable," he said. "We harbour a sense of injustice and one thing is for certain, we will put on a good performance, I'm sure of that.
"Yet, there is still a tinge of disappointment with the way the game turned out on Friday as you can imagine.
"It's difficult to accept what happened but the players have been great.
"We've had a couple of good training sessions and a few team meetings.
"We are very positive going into this game but there is still a touch of disappointment and more than a touch of anger about what happened on Friday.
"We feel we were badly let down by the officials and we have to use that anger to help us tomorrow night.
"In all my time in football I have never seen a decision like that so it's very difficult to take.
"Now it's about tomorrow night. This game is an opportunity for us to put Friday to bed."
Related articles