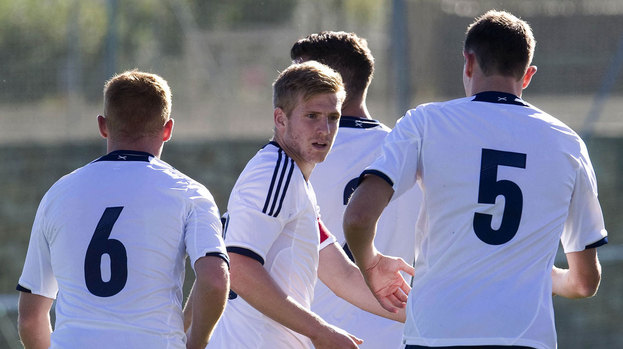 Billy Stark believes Scotland Under 21's training camp in Spain will set his new-look side on their way to gelling as a team.
The young Scots spent six days in Marbella, taking on USA and Canada in friendlies which ended in a defeat and a win respectively.
"There's a whole process in building a team," Stark told the Scottish FA website. "We get a new group of players every two years and with that you are pretty much starting from scratch.
"It will take in the region of six months with a number of training camps and matches before you get the message through to the players about the disciplines we are looking for and the way we want to play. There are no shortcuts.
"We've had a few training sessions together and some good meetings with the players.
"We played two friendly matches against good opposition as part of the get-together, with a 50% record which is fine for our first meeting.
"The good thing about having two games in three days is that there was an opportunity to correct things that we didn't do so well in the next game and the players did that.
"I think overall it's been a very good exercise for us."
The squad in Spain featured nine players previously uncapped at Under 21 level, after a generation of players became too old to feature for Stark's side.
Remaining for another campaign are Ryan Jack and Stuart Armstrong, two players Stark believes provide the perfect example to the new boys.
"Ryan and Stuart are guys you would put your house on in terms of conducting themselves properly and helping to get the right message through to the other boys," Stark added.
"I know what they are capable of as players as they were heavily involved in the last under-21 campaign and I hope their approach to international football can rub off on the others."
Related articles