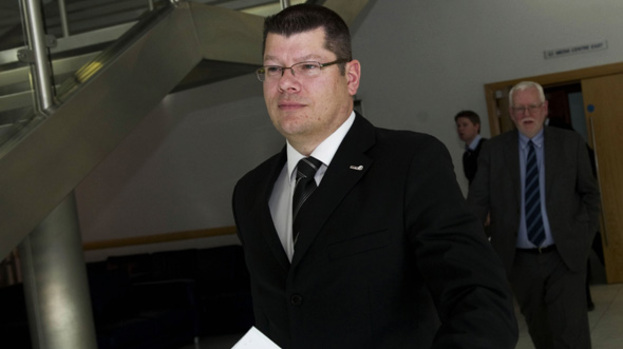 There's a 'y' in the day, so there's obviously been new twists in the Rangers administration saga.
Neil Doncaster has suggested the example set by the likes of Plymouth and Crystal Palace could offer a precedent for a newco Rangers to rejoin the SPL.
Gary Hooper has said that he'd rather stay with Celtic for a crack at the Champions League than ply his trade in the Premiership.
Ahead of the clash between Motherwell and Hearts, Stuart McCall says that he believes the race for the Champions League qualifying spot may go to the final day.
Gary Bollan has thrown his hat into the ring for the vacant job at newly relegated Queen of the South.
Ever wanted to see a player booked for kissing his wife? Of course you do.
TOP STORIES
Neil Doncaster hints that any Rangers newco could join the SPL
** **
The SPL chief executive pointed to examples south of the border as a precedent.
Gary Hooper wants to fulfill his Champions League ambitions
The striker is an alleged target for Southampton, but he wants to take on the best in Europe with Celtic.
**Ralph Topping resigns from SFA board **
The SPL chairman has stepped down from his commitments to the SFA board because of work pressure. (Scotsman)
Dundee announce six players will leave at the end of the season
The Dens Park club have announced that half a dozen players will be moving on.
Jim Jefferies claims Hibs are still favourites to avoid relegation
The Dunfermline manager says that their relegation rivals have the edge in the battle to beat the drop. (Scotsman)
Shaun Maloney set for Scotland recall
The Wigan forward has been in fine form and is set to be included for the squad to travel to the USA. (Daily Express)
MUST READ
Manchester City 1-0 Manchester United: Zonal Marking's analysis**
The Manchester derby left the blue side of the city in charge at the top of the table. Zonal Marking looks at how the game was won. (Zonal Marking).
MUST WATCH
Fabio Simplicio gets booked for kissing his wife
The Roma man went a little bit Richie Tenenbaum when he scored against Napoli (101greatgoals.com)
More About Football Talk
Related articles