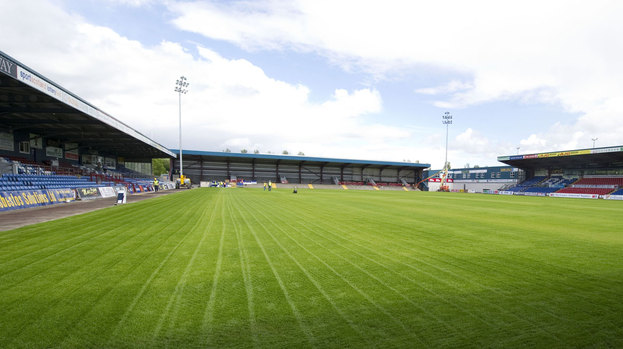 Paul Lawson admits Ross County players have thought of nothing but top-flight football over the last couple of months since winning promotion to the Clydesdale Bank Premier League.
But the midfielder is well aware that County must treat Saturday's match like any other and avoid becoming too caught up in the occasion.
The Highland side will take their place among Scottish football's elite when Motherwell come calling at Victoria Park in what will be the home side's SPL debut.
Midfielder Lawson said: "All the boys are excited. Since we won the title a few months back, it's all we've thought about.
"Credit to everyone at the club for getting the stadium in place in time. It's just roll on the kick-off now.
"It's a big day in the history of the club on Saturday but, at the end of the day, it's another game and we have to treat it like that.
"Hopefully it's a full house and we want to put on a good performance for the fans."
County reached the Scottish Cup final in 2010 - losing to Dundee United at Hampden - and Lawson says the experience whetted their appetite to play top-level opposition on a more regular basis.
He said: "We had the Scottish Cup run a few years back but they're one-off games against SPL opposition.
"We knew then that we wanted to get up and play those sort of teams every week.
"We've done that, we've got there, so now the job is doing ourselves justice and staying there."
Motherwell have had a taste of competitive action already this season, losing 2-0 to Panathinaikos in Tuesday's Champions League qualifier ahead of next week's return leg in Athens.
Having claimed third spot in the SPL last term, Lawson fully expects County to face a tough challenge in their opening match against Stuart McCall's men.
He said: "They had a great season last year. By all accounts they did very well the other night.
"So it's a very tough game. We know that, we are going to have to be at our best to get a result."
Motherwell manager Stuart McCall admits the retention of television contracts has lifted a huge weight off the club's shoulders.
McCall had to persuade the Motherwell board to make Simon Ramsden his first summer signing last week despite losing 10 players, after the club warned they could face administration as a result of the loss of Rangers.
Sky and ESPN this week confirmed their commitment to the Clydesdale Bank Premier League for five more years following fears they would walk away in the absence of the Glasgow giants, and Scottish football has retained the bulk of the value of the deals, which were worth #13million last season.
Motherwell are in the middle of a Champions League clash with Panathinaikos and are guaranteed another European game but there was genuine concern for their finances before this week.
McCall, whose side open their SPL campaign against Ross County at Dingwall on Saturday, said: "I try to concentrate on football and obviously we have had huge games, but there has been a genuine worry.
"There was nothing there to keep the TV people. The managers had meetings with (SPL chief executive) Neil Doncaster and it could have been a possibility that a bigger chunk of money was taken away. Thankfully, although the money is going to be reduced, it's not reduced at the level people were fearing. You might see other clubs strengthening a little bit now."
McCall believes Motherwell "couldn't have been give a tougher start" than facing First Division champions County, who are 34 league games unbeaten, and left-back Stevie Hammell is not surprised manager Derek Adams has achieved such success.
Hammell said of his former Motherwell team-mate: "He was a total professional, both on and off the park. It's no surprise to see him doing well there.
"I think they were struggling when he went back and he took them to promotion and on a crazy unbeaten run, which is still going.
"I couldn't see Derek going into anything and being half-hearted. He would be right in there, 100%, giving everything.
"I'd imagine he's got every minor detail prepared. If they play the way Del did, they will be a hard team to beat."
Meanwhile, McCall had bad news over defender Steven Saunders.
"He had a scan and we need a definite reading again but it's not looking good for Steven in the short term," McCall said. "An operation may be needed on his knee.
"The depth and length of that we're not sure. It's a big blow for us and the kid."
Ross County squad: Fraser, Malin, Boyd, Munro, Tokely, Fitzpatrick, Brittain, Lawson, Vigurs, Corcoran, Scott, Quinn, Duncan, Cooper, Byrne, Craig, Glen, Morrow, McMenamin.

Motherwell squad: Randolph, Hateley, Hammell, Hutchinson, Ramsden, Law, Lasley, Murphy, Humphrey, Higdon, Ojamaa, Daley, Murray, Page, McHugh, Cummins, Hetherington, Hollis.

People who read this story also read