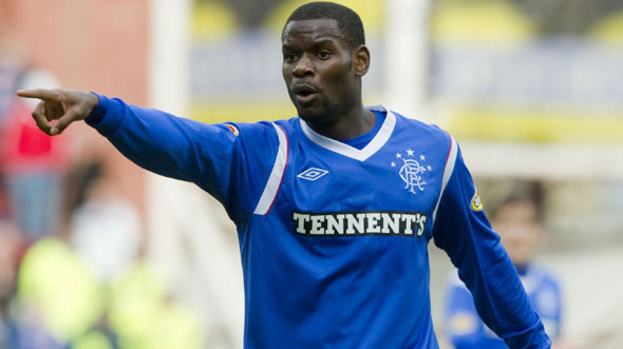 Maurice Edu has said that after a difficult season at Ibrox he is enjoying a chance of focus with the USA national team.
Edu is part of Jurgen Klinsmann's squad for the friendly against Scotland on Saturday and is keenly anticipating the match.
He admitted that Rangers' financial woes had made it difficult to concentrate on playing this season.
"It's good to get back among this group of guys and it's always an honour to represent your country," he said.
"The things that are going on at Rangers will hopefully sort themselves out pretty soon.
"It's kind of like a little escape from the situation right now.
"I can just turn my attention to this and try to focus on doing well at camp and doing well in these games."
With Rangers appointing administrators in February, incurring a points deduction and exclusion from European football, the players have not had distractions to seek.
Edu said that the task had been to remain professional regardless of the turmoil surrounding the squad.
"It's your livelihood at stake and all the uncertainty is on your mind a little bit but I'm no different from the rest of the guys, I just try to focus on playing," he said.
"That's what we love to do, that's what we get paid to do as well.
"Not only is it our passion but it's also our job so we take it as seriously as possible.
"You just try to conduct yourself as professionally as you can and go out there and work hard for your team and just play the game."
The midfielder, like all senior players at Ibrox, has found his future to be the subject of speculation but said he was unaware of any potential move.
"To be honest, I haven't given it much thought," Edu added.
"Things have happened pretty quickly from the last game there to coming into camp here.
"Now my mind has just been focused on trying to do well here.
"It's a competitive group of guys we have here and these are all important games that we want to play in.
"There are 27 guys in camp and they are going to cut it down to 23 or 24 so everyone is focused on doing well for themselves and trying to be among that final group of guys."
"Initially when everything started happening at Rangers, it drew some attention here.
"To be honest, I haven't been paying attention too much to the newspapers and things like that lately, I've just been trying to keep my head down and work hard here."
More About Focus on Rangers
Related articles
People who read this story also read