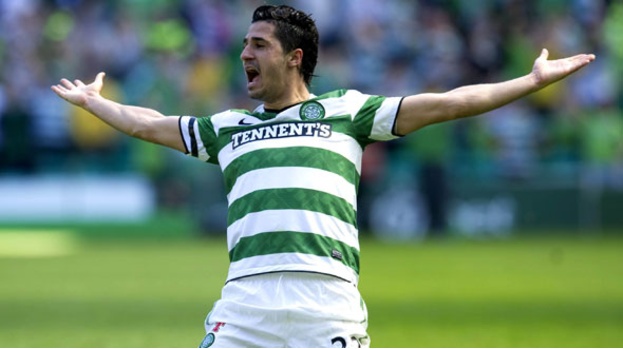 Beram Kayal believes the decision to force Rangers to start again at the bottom of Scottish football's professional structure was the "right one".
The Celtic midfielder, speaking after his side's 4-0 friendly defeat to Ajax on Saturday, agrees with the refusal of the SPL to allow Charles Green's newco into the top flight, and the subsequent choice of SFL clubs to admit them into the Third Division.
Speaking in the Daily Record, Kayal said: "We are talking about the Rangers situation a lot and my feeling is that when it happened to Juventus, Serie A got a lot weaker. So what can we say about the Scottish Premier League?
"However, being fair is more important than anything else and I think that for football this decision is the right one. I'm happy I'm at a clean and healthy club with a big tradition and lots of titles."
Kayal, who sat out the fixture in Amsterdam, will line up for Celtic in the Champions League qualifiers, while Rangers prepare for life in the Ramsdens Cup this coming weekend, pending the decision of the Scottish FA to grant them membership.
HJK Helsinki will travel to Glasgow in just over a week but the Israeli is not concerned about his side's chances after being dismantled by Frank de Boer's side.
"European competition is starting soon," he said. "These friendly games are made to build the team's confidence and to lose isn't good.
"Players just got back from Euro 2012 and some of them are not in shape.
"We changed a lot of things, we are trying a new strategy but I believe that with this squad we will run forward."
More About Focus on Rangers
Related articles
People who read this story also read