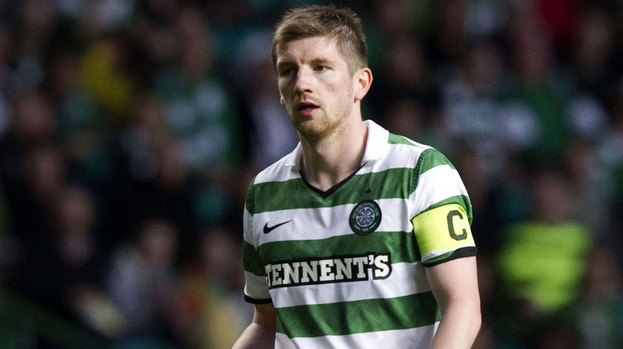 Celtic defender Mark Wilson says he was humbled after manager Neil Lennon gave him a final chance to play at Parkhead.
The Hoops boss confirmed the 26-year-old will leave the club at the end of the current campaign.
Wilson was handed the captain's armband for last week's 1-0 win over St Johnstone and received a standing ovation from supporters at the end of the match.
And the former Dundee United man says he will always be grateful to Lennon for his gesture.
He told the Celtic View: "It was a good reception because obviously I've never been one of the players to light the place up and get the crowd going.
"I've never been one of the form stars or favourites so it was a nice send off and I really appreciate it.
"It was very humbling - I never would have thought, as a young boy sitting in the crowd, that one day I would be getting that kind of ovation going off so it was pretty special.
"I knew I was going to play. The manager told me last week he was thinking of playing me either against St Johnstone or in the Dundee United game.
"He decided he'd play me in the home game which was good because it gave me one last chance to play at Celtic Park.
"I appreciated that but obviously wish I could be staying longer, circumstances haven't worked out that way though.
"It was good to be out there one last time, and to be the captain as well was a nice touch.
"I found myself looking around a bit more and taking things in more than I would usually do.
"With the amount of times I've been there you begin to take it for granted a bit, but knowing it was my last game it was important I took as much out of it as possible.
"I haven't played for about six months so it was good just to get a game - and for it to be my last game at Celtic Park I definitely enjoyed it."
In total Wilson made 138 appearances for the club, scoring three goals.
Injuries blighted his final season with the club but he insists he has nothing but happy memories of his spell.
He added: "If the fans do remember me then I hope they know I gave my all for the club.
"I always tried my best and that's what I said I would do when I first came here.
"I remember being asked in my first interview what I was going to bring and I said I was going to try my best for the team.
"I was going to go in every week with the right attitude and I think I did that. Even when I've had bad games I always went in with the intention of doing well for the team.
"I've thoroughly enjoyed my time at Celtic and I've been very lucky to be here."
Related articles
People who read this story also read