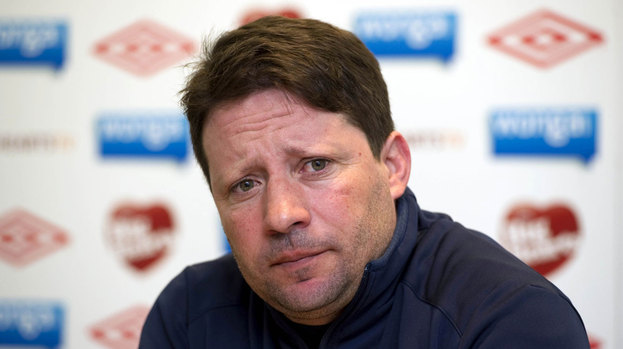 This weekend, Celtic were finally presented with the SPL trophy that it feels like they won in about December last year.
Hearts were the visitors in body, if not in mind, with Paulo Sergio having one eye on next weekend's Scottish Cup final. Imagine if, literally, both Pat Fenlon and Paulo Sergio had one eye on the Scottish Cup for a whole week. That, ladies and gentlemen, is comedy.
Throughout the season, when Celtic have been good they have been very, very good. Against Hearts they were good, which means they were very, ver… ach, you get the picture. Celtic knocked in five goals, all of which were scored by Gary Hooper. That meant that the English striker managed more in this one game than anyone at Hearts has scored this season except Rudi Skacel.
If we are to apply the theory that the final game was a microcosm for all that went before it, then for Hearts it must again highlight the fact they are about as predictable as the roulette wheel on the Titanic. In fact, perhaps they would be best summarised as being like a Vladimir Romanov statement: regularly good value, generally well intentioned, progressive even. But often as cohesive as a pint of crisps.
It would be fairly trivial to attempt to compare Rangers' season to their performance on the final day, but then again, if we were to stay in keeping with most of the column inches from this term then we wouldn't mention football at all.
The most rational thing anyone can say about the year past is that it'll make a very good book for someone to write. Amongst the footnotes of said tome will be the fact that Rangers have actually played, y'know, alright since the beginning of the whole sorry mess. The league was lost in December and January, but since their own financial three-mile island there have been solid performances, emerging talents and a couple of very good performances.
Sunday's 4-0 win over St Johnstone was just that, with Sone Aluko continuing to grow his reputation by nabbing three after Lee McCulloch's opener. The Scandinavians call it a maelstrom, the Germans don't call it "die poopenstorm", and we call it something I'm not allowed to print, but however you slice it, it's been kept away from the pitch with quite miraculous ability.
St Johnstone started the game well enough, much like they did this season, but collapsed latterly. Still, a sixth place finish and a potential spot in the Europa League is nothing to be sniffed at, unless you particularly like the scent of 38 game-old football shirts.
Motherwell and Dundee United have had exceptional seasons, although you'd perhaps think it was the latter that had finished third given the number of players featuring in the SPL team of the season. Given another couple of games they may well have done, but over the course of the term Stuart McCall's team were the marginally better side.
Dundee United won the clash between the two by 2-0 thanks to goals by Johnny Russell and Jon Daly. The team that were just below them in the first (alphabetical) table of the season were far below them 38 games later…
It's hard to remember, but Dunfermline's season actually started quite well. Jim Jefferies' team took the lead against Kilmarnock through Paul Willis, but the Fife side are as good at holding leads as Derek Riordan is at holding his drink. Liam Kelly and Jude Winchester both managed to score with just four minutes remaining, meaning that Dunfermline have dropped 20 points from winning positions this year.
For Kilmarnock it was yet more vindication in the powers of unpredictable sorcerer, Kenny Shiels. Winning the double of the Meh Trophy and the League Cup is no mean feat, and it's not arrogance from the manager when he says he believes he's the best man to continue in the role at Rugby Park. You can level many charges at the Northern Irishman, but dishonesty would never be one of them.
St Mirren and Aberdeen played out the most obvious example of their seasons as a single game, when they drew 0-0 at Pittodrie. Aberdeen huffed, puffed and passed the ball sideways, occasionally threatening in the way a table leg might an unclad toe. Darren Mackie, making his farewell appearance for Aberdeen, was livelier than most.
Equally, St Mirren played neat, high-tempo football, retaining the ball for long periods, while offering as much cutting edge as a velvet mitten. If the game was decided on who made the most intricate patterns, Danny Lennon's team would have walked it. If it was judged on who looked the more dangerous, like some sort of super villain beauty pageant, then it would have been Aberdeen. Unfortunately for both, this game is judged on goals, which is a bit of a pain.
Hibernian and Inverness will mainly be relieved to know they will still be in the SPL next time around, but there was the small matter of a deciding fixture between the two. Of course, Inverness Caledonian Thistle won, because they were playing Hibs in the Highlands. Plus ca change. A neat Greg Tansey free-kick and a Jonny Hayes penalty were the undoing of Hibs, who probably lost focus because, like Paulo Sergio, one of their eyes was on the game and the other was looking into the future. That'd be enough to put anyone off.
Finally
• pauses, plays triumphant Star Wars music from the bit where Chewbacca doesn't get a medal. Celtic have won the SPL. Oh, wait, you knew that. Fine then, well they got 93 points. • Rangers maintained a solid grip on second place (73 points), ahead of Motherwell (62) and Dundee United (59). • Hearts (52) pipped St Johnstone (50) for a Europa League place. The latter will have to hope Hearts win the Scottish Cup before they'll learn whether they'll need their passports next season. • Kilmarnock won the Meh Trophy (47 points), ahead of St Mirren (43) and Aberdeen (41). Inverness (39) and Hibernian (33) finished ahead of Dunfermline (25), who can look forward to any number of Fife derbies next year.
People who read this story also read