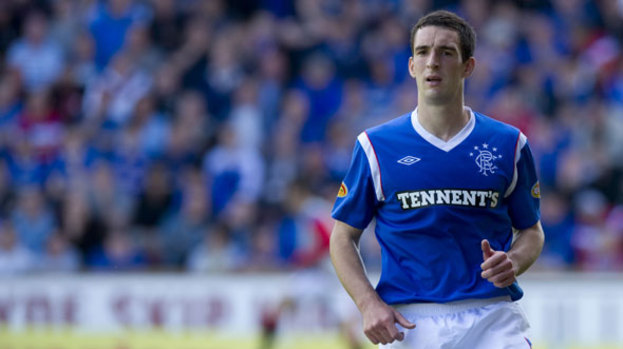 Rangers full-back Lee Wallace has stated that he still believes Rangers in their current state to be the same club he joined last summer.
The Scotland international moved to Ibrox from Hearts in 2011, and has first-hand experience of one of the most tumultuous seasons in the club's history.
Wallace played 28 games in the SPL for Rangers last season, scoring two goals, and was one of the first players to publicly declare his intention to stay at the club after the transfer to the newco.
In an interview with Rangers TV, Wallace also stated that he does not believe he is at a different club to the one he was at last season.
The 24-year-old said: "I'm still wearing a Rangers badge on my chest when I go out to train.
"I'm still going to be going out on a Saturday at Ibrox and nothing has changed in that respect.
"It's still Rangers that I'm playing for. In that sense, they've absolutely not died and it's down to all the boys who are still here to put us back where we belong."
Faced with the likely scenario of starting the season outside the SPL, Wallace stated that he was looking forward to that challenge.
He continued: "There might be a tough season ahead for us but that's what you expect as a footballer.
"We might be down just now but we'll certainly not be there for long and we'll get back on track.
"This is a new chapter for us but that is all and it's business as usual as far as I'm concerned. It's our job as professionals to continue doing what we do."
Wallace also stated that one of the main reasons for his decision to stay with Rangers after the ordeals of the last 8 months was the passion of the support.
He concluded: "This is a rebuilding process and I'm saying that I'm happy to be part of it, as are the guys through in the dressing room now.
"Last season when we went into administration, we almost had a run of four defeats in a row at Ibrox and I don't think that had ever happened before.
"Even so, we'd get to the final whistle of games and when the fans were still applauding us despite our results, it was massive.
"Their pride in us as a support was fantastic."
Lee Wallace has six caps for Scotland and is currently one season into a five year deal at Rangers.
Related articles
People who read this story also read