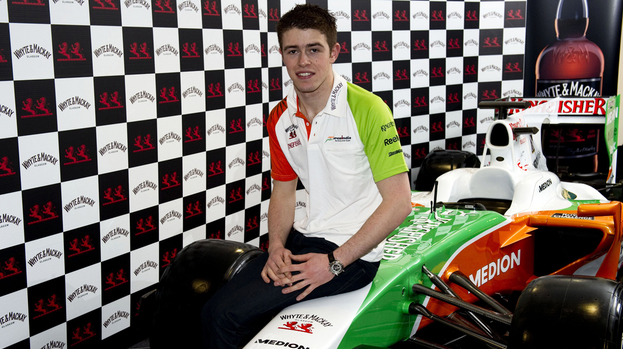 Paul Di Resta is aiming to please his Force India boss by achieving a podium finish this year.
The Scots racer is part of one of only two teams yet to claim a top three finish this year. Toro Rosso are the other after a sequence of unusual races handed points to some unlikely drivers in the championship.
Vijay Mallya, Force India owner, has called on everyone in the team to raise their game in order to match rivals such as Williams, who won in Barcelona, and Sauber, given podium finishes for Sergio Perez in Malaysia and Canada.
Di Resta said: "I want a podium, but at the end of the day if the car is not under you, it's not under you. We put ourselves in a strong position in Canada but we never took advantage of it.
"If anything that should have been the race where we made a jump, and we were in a clear position to do that, but we failed to do so.
"Of course, everybody in the team is working to achieve it, but there are a whole lot of things in the background.
"You have to look at resource, the way our team operates compared to some others, that suggests we can't achieve it.
"But in saying that I don't see why we shouldn't have the belief we can't do it because we did it last year.
"I would like to hope and believe this year we can do it if other people have."
Di Resta is now approaching two years since he was last on a podium, his previous experience being at the end of his 2010 title-winning campaign in DTM.
The Scot, realising the limitations of the team he is with, said: "It's the longest stretch I've gone, even without winning a race, by a long way.
"Of course you miss something like that, but you're at the top of the sport and you have to accept the circumstances you are under.
"But it doesn't mean you go into a race thinking you are not going to win. You have to have every faith you can achieve it."
Di Resta is 12th in the championship with 21 points heading into this weekend's European Grand Prix.
Force India have attempted to understand why Di Resta dropped like a stone after his first pit stop in Canada, given he was running fifth at the time.
With the complicated Pirelli tyres playing a key part, Di Resta admits the team "misjudged" matters in Montreal.
However, he maintains there "doesn't need to be a knee-jerk reaction."
The Uphall born driver said: "In Montreal things took us a bit by surprise.
"We ran as high as fifth on merit at one point, and if we went back to the race now it would be a different story for us, it's as simple as that.
"We should have controlled, positive thinking around what took place because in terms of what went wrong, it was a one off."
More About Formula One
Related articles