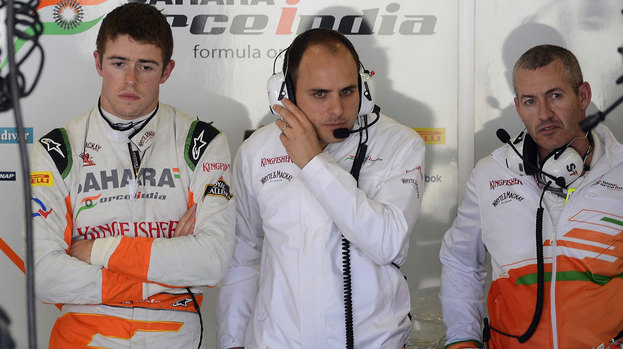 Paul di Resta has thanked fans for their support after being forced out of the British Grand Prix.
The Scot's race ended on the third lap after being clipped by Lotus driver Romain Grosjean.
It was enough to puncture the right-rear tyre of his Force India car and send him off the track for the first time in 24 races.
Speaking to Press Association Sport, the 26-year-old said: "There's not a lot I can say about that race, and very little to take out of it.
"The one positive for me were the fans. They were just fantastic throughout the entire weekend.
"They had to cope with so much given the conditions, but they turned out in their thousands to support us."
Having started the race in 10th place, the Scot was hopeful of recording points.
However the Bathgate-born race refused to be too down-heartened by events at Silverstone, preferring to look ahead to the German Grand Prix later this month.
He added: "It's a shame what happened, such a silly little thing.
"Grosjean had a little touch with (Lewis) Hamilton, and I then got alongside him and left him room, but it looks like his front wing contacted my rear tyre.
"It's difficult to say whose fault it was, or whatever, but I did leave him room. Unfortunately, the tyre came straight off the rim, and it was so early in the lap.
"When I then tried to get back to the pits I ripped half the floor off the back of the car.
"I went back out, but went off (track) again. If you look at the numbers and the down force we lost, it was evident there was no way we could continue.
"I saved the engine at least, which might be a benefit somewhere else.
"But what happened is so disappointing because last year was such a hard race. Now we go to Hockenheim (for the German Grand Prix on July 22) and try to be that little bit quicker."
More About Formula One
Related articles
People who read this story also read