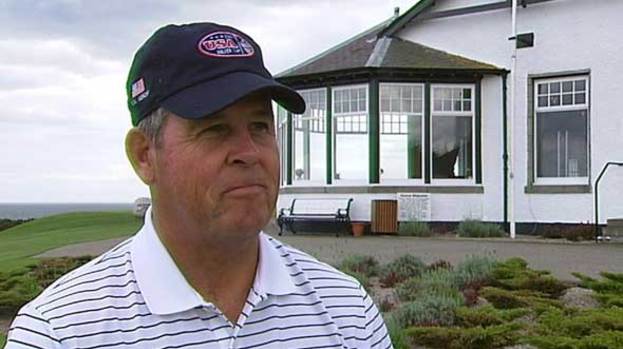 The United States Walker Cup team have been given their first glimpse of the Royal Aberdeen course ahead of their showdown with Great Britain and Ireland this weekend.
The ten-man team played two rounds on the course on Monday as they look to win the coveted trophy for the fourth time in a row.
US non-playing captain Jim Holtgrieve says his team are comfortable with going into the match regarded as favourites.
He said: "We have got a good team but when you get into a match-play competition any team can win. I hope we come here and play golf in the spirit of what the Walker Cup is all about.
"We get to come and play where golf was born and we are going to do our best to win. The guys on my team are very competitive but they have also come here to meet new people and get an experience of a lifetime."
Crowds of around 6000 are expected on both days at Royal Aberdeen for the match, regarded as the most prestigious event on the amateur golf circuit.
Holtgrieve, who played in three victorious US Walker Cup teams, says his side can cope with the pressure of playing in front of packed galleries at the challenging links course.
He said: "We are going to talk about the crowds and we will show the guys some of the tapes from the matches at Royal County Down in 2007 so they get a flavour of how the home patrons root for the home team.
"It will be tough but what's really neat about Scotland and the patrons here is that they do reward and clap for good golf so we get the best of both worlds."
And the United States captain insists his side is also more than ready for dealing with anything the Aberdeen weather throws at them.
He added: "I have been listening to my guys and they have been saying that they hope to see some of the wind and rain and find out what golf in Scotland is really all about.
"It would probably favour the GB&I team a little more if it is like that but I don't think my guys are going to be afraid of the weather.
"This is the third time I have played the course and the conditions have been perfect each time. I would like to play it in a 30mph wind and see just how tough it really is. I guess we have to wait and see what the rest of the week has in store."