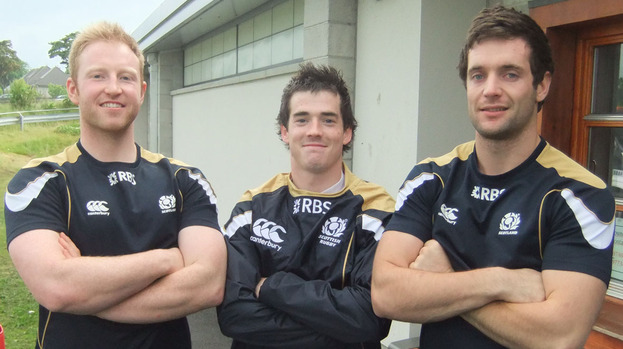 There was a time when June was a month which allowed rugby players an opportunity to rest their weary limbs, enjoy a brief reprieve from the screams of "Crouch, Touch, Engage", and restrict their spell in scrums to waiting at airports to fly off to foreign climes on holiday.
But life has moved on and Aberdeen GSFP's personnel were back pounding the paddock in training at Rubislaw this week in advance of the 2012-13 campaign.
Indeed, for three of their number, there hasn't even been the sniff of a break because they have been turning out for Scotland on the FIRA Sevens circuit, striving to reinforce their bid for international representation at a higher level and generally pushing their bodies through the wringer for the love of their club and country.
The trio in question, Callum Anderson, 24, a speedy three-quarter with a mesmerising change of pace, 25-year-old Greig Ryan, a coruscating character in the boiler room of the back row, and Morgan Ward, 24, one of those elusive little No 9s whom the late Bill McLaren would have described as being as slippery as an eel in a bucket of grease, might be entitled to fret about their incessant schedule which means rugby has turned into an endless winter for these lads.
But, on the contrary, they flung themselves into Tuesday's session with admirable vigour and spoke afterwards about their excitement at their recent career progressions.
"These last few weeks have been great ever since we were called up into the Sevens squad. We played in our first tournament earlier this month and beat France in France, which was a bit of bonus, and our aim now is to head to Moscow next week and then be involved in the final two events on the calendar in Denmark and Portugal," said Ryan, who talked with such obvious relish about his experiences that one suspects he would journey to the Moon if there was an oval-ball contest amidst the craters.
"It was 32 degrees on the first day, then there was a monsoon 24 hours later, but the conditions didn't matter; what was important was that we were out there playing for Scotland."
Ward also admitted being nervous in advance of his maiden competition but soon warmed to the demands of locking horns with Europe's best in the abbreviated version of rugby which Borders butcher, Ned Haig, invented nearly 140 years ago.
"Compared to the Sevens I had played in Scotland it was a lot faster, more physical, you had to adapt to the speed of the games and be 100% focused because these guys can create chances from anywhere on the pitch," said Ward.
"But it was hugely enjoyable and, hopefully, we did enough to be selected again. There is a buzz about the Scottish squad, but the same is true of everyone here at this club."
As the most recent recruit to the north-east team's ranks, Anderson - who moved to Aberdeen to start a teaching job at Bucksburn Academy - was self-critical about his individual performances during the French event.
He said: "I thought that I could have done better, so I was a bit disappointed with that, but it is terrific that we have three Aberdeen boys in the squad"
And yet the combination of his Stakhanovite work ethic and refusal to seek refuge in excuses helps explain why the Grammar coach, Alex Duncan, was so delighted to pencil Anderson's name into his squad last summer.
"I am really enjoying my rugby at the moment, we battled hard to win a place among the top eight [in the Scottish Premiership] last year, and the job now is to kick on," said Anderson, who has turned out for the Scots on the IRB Sevens circuit after being called up late for the Twickenham leg in 2011.
"We realise that it won't be easy and that is one of the reasons why our pre-season preparations have started so early. But we have proved that we deserve to be in the top flight and there is no shortage of motivation in the ranks."
This was a familiar refrain among the triumvirate and it was encouraging to hear Ryan spell out his opinion that there should be no resting on laurels or contentment with merely challenging for honours, but that Aberdeen should be targeting nothing less than the championship crown when the new campaign commences in August.
"We have to aim for that, why not? If you don't set your heights high you won't get very far and I think we have proved that we deserve to be where we are," said Ryan, with a forceful click of his jaw. "There is quality throughout our side, we have some new faces coming here and we recognise that the intensity of the Premiership is increasing year by year, but the goal is simple: we want to win the Scottish title and we will be going flat out to do so."
Anderson, a beetle-browed individual when he isn't weaving and wending past would-be tacklers, sounded a brief note of caution amidst the endeavour and exhilarating energy on display. He added: "We know we will have to improve on our consistency when the league action begins. We played really well for 30 or 40 minutes of certain matches last time round but we have to step that up to 80 and be doing it week in, week out. However, as you can see, there definitely is a sense that this team can go places."
With which the three musketeers returned to the fray oblivious to the incredible vagaries of the Scottish climate, which produced blinding sunshine one moment and teeming rain the next. Aberdeen GSFP may have experienced fluctuating fortunes during the last decade and nobody is getting unduly carried away, but in Ryan, Ward and Anderson, they possess the sort of flinty citizens who will feel at home in the Granite City.
People who read this story also read