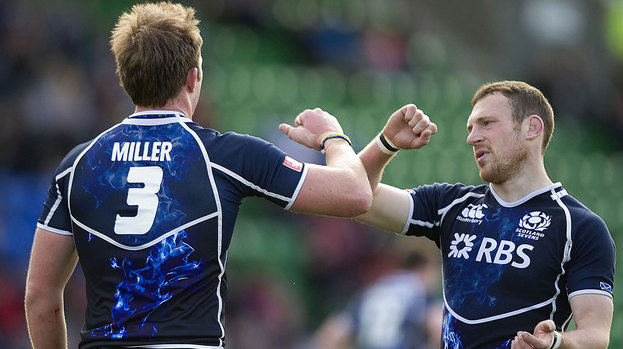 Scotland recorded their first win of the day to finish in third place in Pool D, behind Wales and South Africa.
This result means the Scots will be entered in the Bowl tournament on Sunday.
Scotland went into the match as heavy favourites, having won nine out of the last ten meetings between the sides.
Number three Ross Miller ran in the first try after darting through the Russian defence, making it 5-0 after 3 minutes.
Scotland were looking very determined not to be defeated and the crowd sensed the urgency. They were in complete control of the game throughout and crowd and fans alike were not disappointed with the result.
Bang on half time, a penetrating run saw John Houston take the score to 12-0 in Scottish favour.
A dominant Scotland display did see Russia have a flash of brilliance after great offloading play creating the space for the try, making it 12-5.
Scotland never looked like losing and replied quickly with another try, pushing the score to 19-5 with two minutes left.
Moments later, a chip through the Russian defence split them open and a prod of the ball by speedster Andrew Turnbull shot the score to 26-5.
Colin Gregor then finished off the opposition and created a move to offload the ball to Michael Fedo to take the full time score 33-5 to Scotland.
The crowd certainly played their part as Scotland's eighth man, helping the side finish third in the pool with five points.
Scotland's coach Graham Shiel said: "It's great to have such a good crowd here at Scotstoun. The atmosphere is great and there's a real buzz around the stadium.
"It's been a really positive venue and hopefully we will do well for the crowd tomorrow."