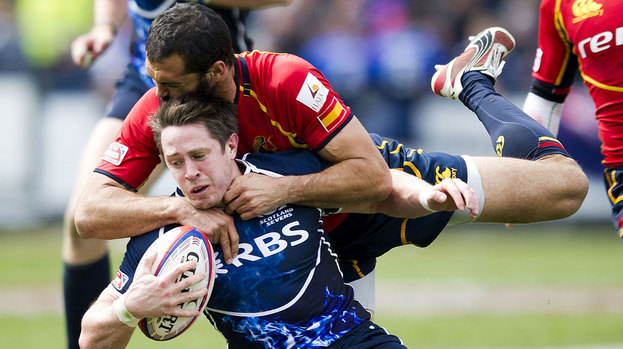 Scotland were beaten in the Bowl tournament semi-final clash at the Glasgow Sevens after Spain upset the odds to clinch a 10-7 win.
The hosts had won the previous two meetings between the sides but they couldn't make it three in a row.
The Spaniards took an early 5-0 lead after taking advantage of a gap in Scotland's defence.
Things nearly got worse with the visitors coming close to a second try only to be penalised for a knock on.
Scotland replied through moments later through a speedy break from Andrew Turnbull, who was stopped yards from the line.
Despite a disappointing display, Scotland got their try when Turnbull powered over to give the hosts a 7-5 half-time lead.
However Spain continued to attack after the break and their pressure paid off when a missed tackle allowed them to score their second try of the match with two minutes remaining.
And they held on to secure a famous victory infront of a disappointed home crowd.
Scotland coach Graham Shiel said: "Overall I'm happy with the four out of the five performances this weekend but ultimately the outcome was to get to a final and to give the crowd something to cheer for.
"The crowd have been fantastic all weekend and we are disappointed that we can't give them more to cheer for."
Related articles