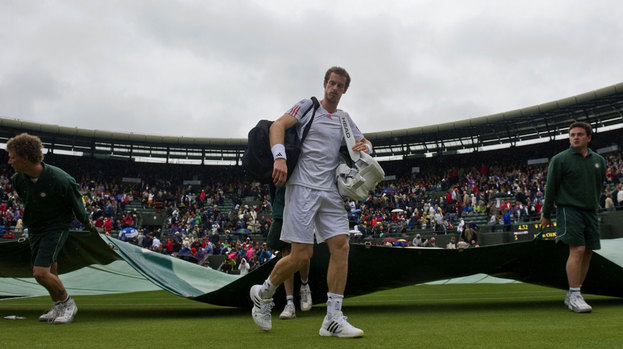 Andy Murray will resume his rain-delayed fourth round match with Marin Cilic on Tuesday, as he bids to make the last eight at Wimbledon
The Scot is a set up against his opponent and 3-1 to the good in the second, having seen his match called off at 5pm on Monday.
Murray will return to Court One to try and play his way through to the quarter finals but, despite his lead, will still face a tough challenge against the ever-dangerous Cilic.
Should he make it through, the British number one knows the bottom half of the draw has opened up kindly for him to potentially progress to the final for the first time, with Rafael Nadal and Andy Roddick having suffered shock early exits.
"A lot of people have said to me that the quality of matches at the end of the grand slams have been unbelievable the last few years," Murray said of the surprise defeats of his tournament rivals.
"People like seeing that, but I think upsets are part of any sport. Some people like them.
"I'm sure Rafa has a lot of fans that wouldn't have been too happy about it. But it's just part of sport.
"They haven't happened that much over the last few years in slams, but they will start happening more. I don't think consistency from the top players can continue that much."
More About Wimbledon
People who read this story also read