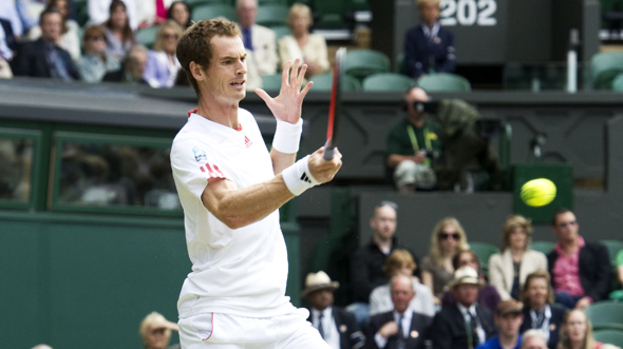 Andy Murray managed to progress to the second round of the US Open despite being hampered by poor serving and cramp.
The Olympic champion secured a 6-2 6-4 6-1 win over Russia's Alex Bogomolov after a difficult match in which he struggled with his opening service games and faced a battle in the second set.
Murray claimed victory after two hours and 15 minutes at the Arthur Ashe Stadium, overcoming a bout of cramp in the final stages.
Despite his woes, Murray felt he had coped well, saying: "I won in three sets. I didn't serve very well. I only lost seven games in three sets, so I must have done something well today.
"I think Bogomolov was seeded here last year. He made the third round. He plays his best tennis on the hard courts. He's a tough player.
"I played fairly well from the back of the court. I just would have liked to have served a bit better because I wasn't getting many free points on my serve. Because of that, there were a lot more rallies.
"When he's in a rhythm, he's tough to break down. It was very, very hot and tough conditions today. You want to try to win the matches as quickly as possible."
Murray dropped his opening service game with a series of errors, a pattern he replicated after levelling at 1-1.
Bogomolov, who switched allegiance from the US to Russia at the end of last year, has dropped from just outside the top 30 to 73 this year.
The third seed managed to retrieve the second break immediately, though, and, after staving off yet more break points, finally held before breaking twice more to clinch an erratic first set.
Bogomolov had not held serve at all but he did so after breaking Murray again at the start of the second set and had points to go 4-1 up.
The 29-year-old was the opponent for one of the lowest moments of Murray's career in Miami last year when, in a post-Australian Open final slump, he lost a fourth straight match.
The world number four had won their last two meetings, though, and pulled himself level once more at 4-4 before breaking for the sixth time in the match to win the second set.
By the end of the third that was nine, with Bogomolov's sole game coming with a fourth break of the Murray serve, the 25-year-old screaming 'Focus' at himself as the ups and downs continued.
In the sixth game, a new worry surfaced as Murray clutched his leg after chasing down a drop shot, the energy-sapping conditions taking their toll.
He said: "It was just a little bit of a cramp. It was very, very humid on the court today. Maybe I didn't take enough fluid. It happens.
"I haven't played that many matches in that sort of humidity for a while. It's probably a bit of a shock to the body. I need to make sure I'm on that for the next match."
Murray will now face Ivan Dodig in the second round on Thursday after the Croatian brushed aside Japan's Hiroki Moriya 6-0 6-1 6-2.
Related articles