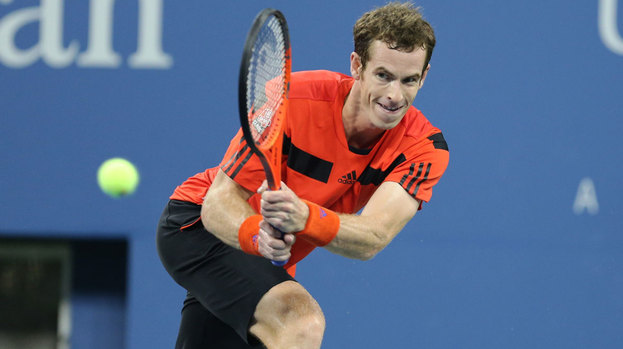 Andy Murray has said that the scheduling of the first match of his US Open defence was "not ideal" after he booked his place in the next round.
Murray swiftly defeated Michael Llodra 6-2 6-4 6-3 in his first match on Arthur Ashe but was not happy at waiting until Wednesday evening to get his first taste of action.
The Scot's title rivals all began their tilt at the title earlier, with Rafael Nadal playing more than 48 hours earlier but rain on Monday meant that Nadal's second round match against Rogerio Dutra Silva was pushed back, with Murray forced to wait until Wednesday's evening session for his first match.
"I think playing at that time for your first round is not ideal," he said. "That's it. I'm not going into any more detail than that. It's just not ideal.
"It's not whether it's me, it's anyone. Just because I won last year, it's nothing to do with that. For the guys that have to play this evening, you have guys that have two days off between matches.
"We were asked on Saturday, 'Would you like to play on Tuesday or Wednesday'? We said Tuesday.
"They then told us the next day, 'It's looking like it's going to be Wednesday'. Okay, cool. It will be during the day on Wednesday.
"Yesterday, as we were leaving at 3pm we were told, 'It's looking like you're going to be playing in the evening'. Then we had to come back last night to practise under the lights, and it just changes your preparation for the match.
"But there were a few guys that were in that situation today. I like playing at night. I just don't think for the first round it's ideal."
When he finally took to the court, Murray did not encounter any serious problems in defeating Llodra, breaking the Frenchman's serve at the first time of asking and wrapping up the first set quickly.
The second saw Llodra win the first three games but Murray's response was to take five games in a row and took a 2-0 lead with just over an hour on the clock. An early break gave him the upper hand in the third and though he was forced to save break point to lead 5-3 he swiftly wrapped things up.
"It was a good match," he said. "The rallies were quick; sharp.
"There wasn't much time between points. He was playing quickly on his serves.
"It was a fairly, I thought, high-standard match. There were lots of reaction shots and drop shots, and it definitely tested my movement. I thought I moved well. I didn't make too many errors."
Murray faces Argentinian world number 81 Leonardo Mayer in the second round.
More About US Open
Related articles
People who read this story also read