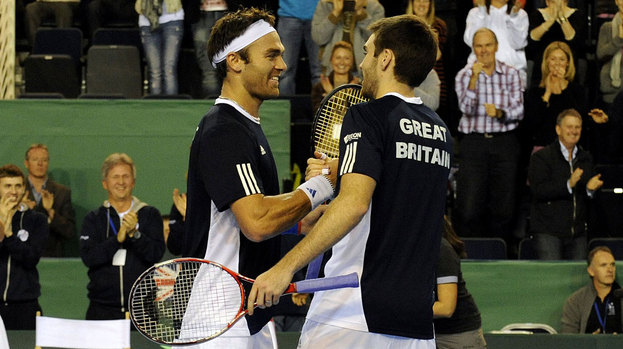 Colin Fleming and Ross Hutchins will attempt to keep Great Britain in their Davis Cup tie with Belgium during Saturday's doubles match at the Braehead Arena.
The hosts are 2-0 down despite spirited performances from Dan Evans and Josh Goodall in the singles ties on Friday.
Evans took the opening set against world number 59 Olivier Rochus 6-3 before going down 6-4 7-6 (9-7) 6-4.
Meanwhile Goodall, making his first Davis Cup appearance in three years, also won the first set against Steve Darcis.
But the world number 68 came back to win the match 6-3 6-4 6-4.
However Britain's chances are higher in the doubles with Fleming and Hutchins rated as one of the best pairs around.
Hutchins said: "It can change last-minute but whoever we play it will be a tough match on a very fast indoor court. It will be exciting tennis and we'll just play our own game, take the game to them and hopefully it will be good enough."
Hutchins and Fleming have made rapid progress since linking up permanently at the start of 2011, reaching the quarter-finals at both Wimbledon and the US Open.
The duo are ranked as one of the top ten partnerships on the tour and are bidding for an Olympic medal and a place at the season-ending Tour Finals at the O2 Arena.
Hutchins added: "They're huge goals for us. As a team they're right at the top along with the Masters Series and improving our ranking, and I think they all coincide.
"Once our ranking improves we'll get into more Masters Series and we'll be higher seeds at the slams and give ourselves better opportunities to do well there. If we can take those opportunities we'll be involved at the O2.
"The Olympics has always been a dream for both of us and being at Wimbledon is huge for us. We enjoy playing on the grass and for the Olympics it will be amazing. We just hope we can be fit and push for a medal."