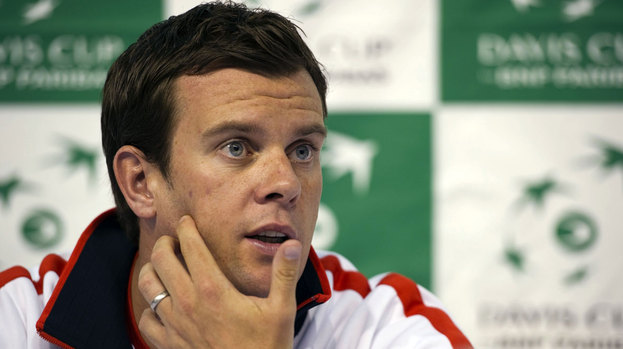 Britain's Davis Cup captain Leon Smith insists there are plenty of positives to take away from their 4-1 Europe/Africa Zone Group I defeat to Belgium.
It was the first time Britain had been defeated during Smith's five-game reign since he took over from John Lloyd in 2010, but it came as no surprise as they were up against a superior Belgian team.
The visitors to Glasgow consisted of four players who were ranked 100 places higher than Britain's number one player in the tie Josh Goodall.
Scotland's Colin Fleming and his doubles partner Ross Hutchins had giving the side some hope at 2-1, but Belgium wrapped up the tie when highly rated youngster David Goffin beat Goodall in straight sets 6-4, 6-4, 6-4.
Despite the defeat Smith remained upbeat about the team's future prospects.
"It was always going to be a very difficult tie but we're not far away from winning," he said.
"It's fine margins but we go away from this weekend and what it drives you towards, and I know all the guys feel the same, is it's about getting together as a group, getting the guys focused on the day-to-day hard work and improving their rankings, which can get them into a higher level of tournaments."
With James Ward sidelined it gave the opportunity to 253rd ranked Josh Goodall.
Goodall has been playing well on the Futures circuit – the lowest level of the professional tour – and he believes after the Davis Cup experience he can play at a higher level on the ATP Challenger Tour.
"I'm playing Futures too much at the moment. I'm winning them, which is good, and I have to do that to get my ranking back up, but I need to be playing these players week in, week out so it doesn't feel like such a shock to the system," he said.
"Some of the serves that were coming back in that match are definitely not coming back in Futures. Once I get used to that I think I definitely can play at this level, I just need to be playing it more often.
"That's what I'm going to be doing over the next few weeks, I'm playing some Challengers and then I've got the grass-court season, which I really should be taking advantage of."