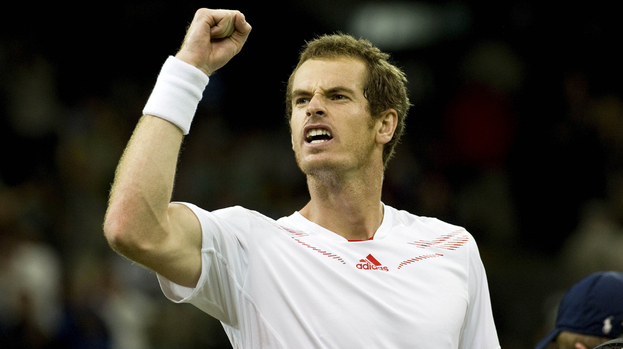 Wimbledon extended their curfew for Andy Murray on Saturday night and the British number one took advantage to book his place in the fourth round.
Murray wrapped up a 7-5 3-6 7-5 6-1 victory over Marcos Baghdatis in the latest finish known at Wimbledon.
Victory was tied up at 11.02pm, exceeding the previous record of 10.58pm set by Novak Djokovic and Olivier Rochus two years ago. The official curfew is 11pm, which is the time the final game began.
It was after 7pm when the players walked onto Centre Court following lengthy matches involving Serena Williams and David Ferrer.
Cypriot Baghdatis, a Wimbledon semi-finalist six years ago, was consistently dangerous and only in the late stages was he dominated by Murray.
Murray was playing within himself in tricky breezy conditions, and he often found himself on the back foot in rallies.
The Scot took a tumble in the seventh game and seemed to be feeling his right shoulder, and he had more problems when Baghdatis brought up two break points.
But Murray saved both, one with the coolest of drop shots and the second with a running forehand pass that was initially called out but HawkEye showed to be in.
Murray's chance arrived in the 11th game, and he took his second break point when Baghdatis pushed a forehand wide.
The Scot then served out a cagey set with an ace after exactly one hour, but despite his best attempts to lure his opponent into errors the Cypriot managed to gain momentum in a series of cat-and-mouse exchanges.
The players were then called off court at the end of the set, at 9.04pm to allow time for the roof to be closed, with the match to continue under lights.
Play resumed at 9.40pm, with Murray sporting strapping on his left knee, presumably as a result of one of his numerous falls.
But the Scot came out with a positive attitude and began the third set by serving three aces in the first game.
The indoor conditions had changed the match and Murray was hitting with much greater freedom. He brought up two break points in the fourth game, celebrating with a fist pump to the delight of the noisy crowd, but he could not take either.
Baghdatis finally folded in the fourth set, which began at 10.36pm, and the winning moment came when he lobbed a forehand well over the baseline.
Murray said: "It was tough conditions, I was really struggling. In the first couple of sets I was creating a lot of chances but I wasn't feeling comfortable. I struck the ball a bit better under the roof.
"It had it on the screen that the match can't be played past 11pm. I asked if we had one more game so when I broke I thought we wouldn't be able to play on."
People who read this story also read