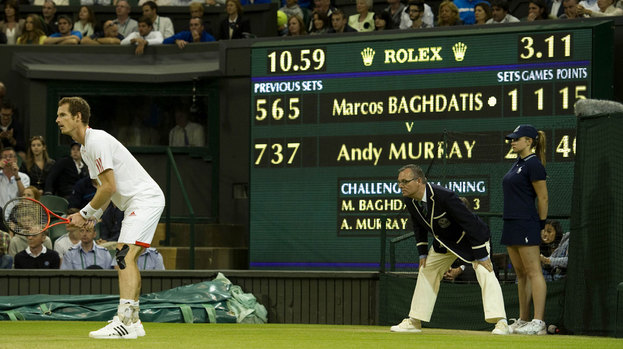 Andy Murray has acknowledged that the Centre Court roof policy still needs perfecting following his late, late finish against Marcos Baghdatis.
Murray's 7-5 3-6 7-5 6-1 victory over Baghdatis wasn't completed until 11.02pm after he was allowed to continue play rather than restart the following day.
The roof on Centre Court has also been covered during Rafael Nadal's loss to Lukas Rosol and Roger Federer's five set win over Julien Benneteau.
"With the roof there's always going to be some difficult situations for the tournament director or the referee," Murray said. "Yesterday's match was a perfect example.
"Do we start the match with the roof on so there's no delays? On Friday I think they got criticised quite a lot because it didn't rain at all and the roof was shut the whole day, when it shouldn't have been, because it's obviously meant to be an outdoor event.
"I think that was probably one that they might have made a mistake on. Apart from that, people want to see tennis. If it does rain, having the roof is a huge benefit because there is always guaranteed matches going on.
Murray now progresses to play Marin Cilic and he said that he personally would feel the benefit of being able to have a full day's rest.
"There are always going to be difficult situations when you only have one court with the roof, because obviously for me now it's an advantage that I got the match finished," he admitted.
"Other years I would have had to play three sets on Monday. Cilic played 17-15 in the fifth set. I'm sure he would have rather I was having to play three sets on Monday before playing against him."
More About Wimbledon
Related articles
People who read this story also read