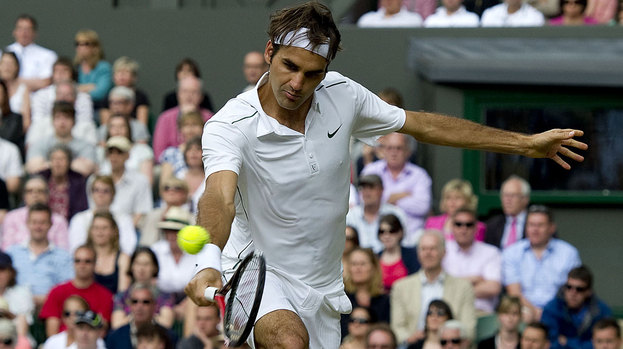 Having won 16 Grand Slam titles, career earnings of over $71m and six Wimbledon trophies you would forgive Roger Federer for being blasé about Sunday's encounter with Andy Murray.
But like all great champions, part of what makes the 30-year-old so great is his desire for more.
Martin Owens and Scott McClymont review Federer's route to the final and explain why his love of Centre Court makes him more dangerous than ever.
There's nothing more dangerous than a wounded animal. Talk of the world's top four breaking away to a group of two, Novak Djokovic and Rafael Nadal, has been bluntly dispatched by SW19's two male finalists.
Retaining the grace that made him one of the sport's most decorated figures, Federer has relished the challenge of proving he is far from finished.
A surprise defeat in the final of his traditional Wimbledon warm-up tournament in Halle, Germany provided more ammunition to those who believed he was a spent force.
Federer has won that competition five times, losing his first final there to Lleyton Hewitt in 2010.
The early rounds of Wimbledon went as planned as he dispatched Albert Ramos and Fabio Fognini in straight sets.
That all changed in the third round as he was taken to five sets by Julien Benneteau of France.
Xavier Malisse was next and despite doing his best to lose the first set and overcome a back injury, Federer survived to fight another day.
His demolition of Mikhail Youzhny was reminiscent of an exhibition match with the Russian, seeded 26th, pleading with the Royal box for help.
He followed that up by booking his place in the final after a stunning performance against world number one Novak Djokovic.
Sunday will be Federer's first final appearance at his beloved Wimbledon Centre Court since defeating Andy Roddick in a five-set thriller back in 2009.
The Swiss maestro will be as confident as ever of equalling Pete Sampras' record haul of seven Wimbledon titles after dismantling the rock solid game of the Serbian in four sets on Friday.
The greatest player of all time has been in superb form this season, winning four titles, including two Masters 1000, and reaching the semi-finals of both the Australian Open and the French Open.
Asked if he needed to prove himself to anyone, the Basel-born man replied: "All I hoped for was a good match from me, to give myself a chance to be in the finals, to have a shot at the trophy again.
"It's great. That's what my goal was going into the match, not looking ahead trying to prove a point or anything like that.
"I feel I've played plenty of tennis over the years and had so much success that I don't think I really need to do that."
Ominously Federer's last Grand Slam title came against Murray in Australia in 2010.
While he can reclaim number one spot with victory, he recognises the level of expectation facing his opponent.
"It reminds me a bit of Australia because you don't have the amount of players they have in France or America, so the focus is more on one player, maybe a couple," he said.
"I think what is so particular about this country is that there's so much attention on that one player, which is Andy Murray. Let's be happy that he's such a great player that he lets that sort of hype last.
"He's only going to get better as time goes by. That's what he's been proving and I think he's handled it (the pressure) very well."
Kind words for the Scot but don't expect him to be quite so kind on the court.
Progression to the final
First round: Albert Ramos: 6-1, 6-1, 6-1
Second Round: Fabio Fognini: 6-1, 6-3, 6-2
Third round: Julien Benneteau: 4-6, 6-7 (3-7), 6-2, 7-6 (8-6), 6-1
Fourth round: Xavier Malisse: 7-6 (7-1), 6-1, 4-6, 6-3
Quarter Final: Mikhail Youzhny: 6-1, 6-2, 6-2
Semi Final: Novak Djokovic: 6-3, 3-6, 6-4, 6-3
You can follow Martin Owens on Twitter here and Scott McClymont here
More About Wimbledon
People who read this story also read