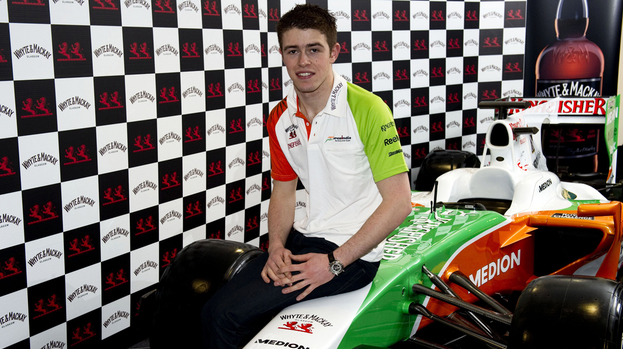 Paul Di Resta's British Grand Prix came to a premature end after only three laps after a puncture forced the Scotsman to retire.
The Force India driver was forced into the pits twice before realising he couldn't continue after being clipped by Romain Grosjean minutes into the race at Silverstone.
Di Resta started in tenth place on the grid and was hopeful of scoring points in his home Grand Prix.
However those ambitions were dashed when Lotus driver Grosjean caught his rival's rear wheel coming on to the Wellington Straight.
Di Resta told BBC: "I am not really too sure what happened. I turned into turn four and suddenly there was no pressure [in the tyres].
"It is unfortunate but there's nothing you can do. Then on the way back to the pits the floor was damaged and there was definitely no way we were going to continue after that. It has not been a great weekend.
"We have not done much running but the fans are here in numbers and hopefully they will have a good race here. We took a bit of a gamble and conditions could not have been better for us."
The race was won by Red Bull's Mark Webber with Fernando Alonso of Ferrari second with Webber's team-mate Sebastian Vettel third.
More About Paul Di Resta
People who read this story also read