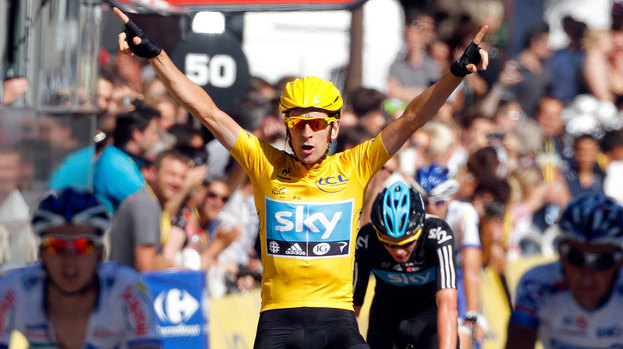 Bradley Wiggins has become the first British rider to win the Tour de France.
The 32-year-old finished ahead three minutes and 21 seconds ahead of Sky team-mate Chris Froome as fellow Brit Mark Cavendish won the final stage in Paris for the fourth successive year.
Wiggins finished his 13th day in the famous yellow jersey after a solid performance around the French capital.
It was the seventh British stage success of this year's Tour, the third for Cavendish, Wiggins with two and Scotsman David Millar coming out on top in one stage.
"I'm still buzzing from the Champs-Elysees, it's so quick around there," Wiggins said.
"We had a job to do with Cav and we did it. What a way for him to finish it off.
"I've got to get used to that now (his place in cycling history being secured forever).
"It will take a while.....I'm just trying to soak up every minute of today as it goes along.
"It's very surreal at the moment. This sort of thing happens to other people, you never imagine it happens to you.
"It's incredible. I bet I'll look back in years to come and think 'God, that was special'."
British Cycling president Brian Cookson said Wiggins' triumph was a "monumental day" for the sport.
He said: "To see a British rider and a fellow member of British Cycling win is a dream come true for me and all at British Cycling.
"This is a monumental day for sport in the UK - Great Britain has produced in Bradley Wiggins a rider who has won one of the world's biggest sporting challenges and everyone involved in cycling in this country must be immensely proud of that."
Related articles