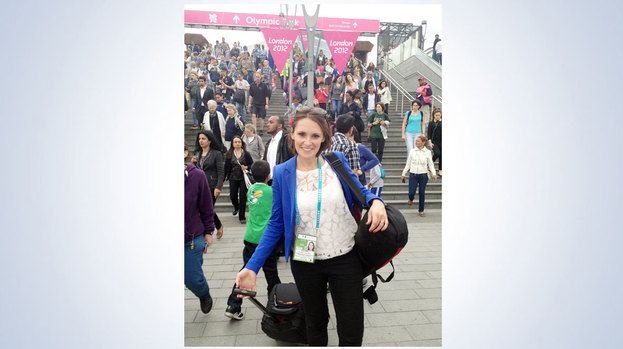 So. At the risk of sounding terribly parochial, I don't know London very well. But I imagine, even at the best of times, it can be a tricky place to negotiate.
But heading to the Olympics as a VJ has myriad challenges.
Perhaps I should first clarify that, by VJ, I mean video journalist - I'm not competing in some obscure Olympic event...like Vault Jumping or vegan Jogging..or something.
Essentially, it means I'm a one-woman show. Just like those one-man(woman) bands you used to see, with the cymbals on their knees, bass drum on their back and accordian in their hands. Kind of. As a VJ I report, shoot and edit all my own material.
Obviously, this means I need quite a lot of kit. Now, such are the advances in technology that it's all pretty compact but, when I'm jostling around with the 10 million-odd other residents and other tourists on the streets and transport network, I can feel pretty laden (see picture). But I have to say, despite my initial scepticism, it's all working pretty well.
The stewards, in their hot pink bibs, are fantastic. They seem to be able to answer most random questions pretty well.
Usually I try to work things out myself but when I'm carrying around my wares I tend to ask the first person who looks at me in a kindly way. And, even if you find it's not really the answer you were looking for, they are almost univerally helpful and endlessly cheery.
They really seem to be enjoying themselves. In fact, one of them even sang at me today.
And actually I've found that I tend to be swept along by the momentum, like a cyclist using a teammate's slipstream. It feel like we're all in it together, as we emerge from the tube stations, shielding our eyes from the blinding sunlight, on our colourful pilgrimage towards the Olympic park...
Who says I'm getting caught up in all this fuss?
More About Olympics 2012