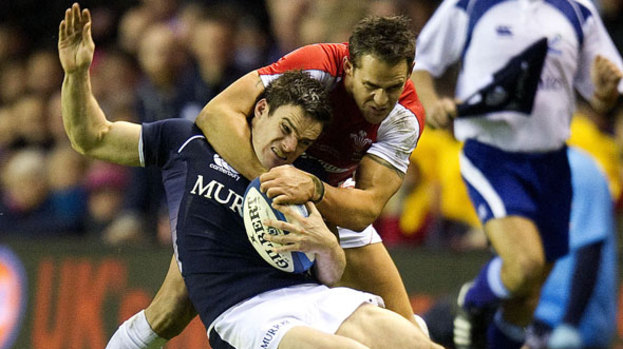 Max Evans believes that Scotland are close to finding try-scoring form ahead of their showdown with Wales on Sunday.
Scotland suffered a 13-6 defeat to England in their opening match, despite dominating possession, and Evans believes that shows just how close they are to reaching their best.
Now Evans believes that the team can deliver on its potential and upset the highly favoured Welsh.
He said: "It's going to continue to be the time to deliver. We need to deliver a good performance.
"We've got to keep the confidence we had going into that England game.
"We did put in a good performance and it was just the small margins - get those right and it's a complete performance."
The defeat to England was compounded by Scotland's inability to convert numerous try-scoring opportunities, and Evans believes that psychological barrier has been overcome this week during training.
He said: "It's been addressed, so let's hope we get it right against Wales.
"The main thing has been a real clear understanding. We know the pattern we're trying to play, guys know where they're supposed to be.
"We've been setting ourselves up in similar situations as we got ourselves in against England. We will get in those positions against Wales. It's knowing the right thing to do.
"Where we might not have gone the right way during the game, we've corrected that in case we're in a similar position against Wales."
Scotland have not fared well at the Millennium stadium in recent years, with it being ten years since they tasted victory in Cardiff. It was also the scene of several high-profile injuries with Chris Paterson and Rory Lamont suffering a lacerated kidney and a knee injury.
Also notable was the career ending injury to Max Evans' brother Thom, who broke his neck and was forced out of the game with just ten caps. Max Evans is unsure of what feelings a return to Cardiff will provoke.
Evans said: "It will be interesting to see what the feelings are actually being in the Millennium Stadium and being on the field again.
"But I've always said I wasn't aware of the severity of Thom's injury until after the game.
"My feelings on the pitch were good, with my try and the way we were playing, just that terrible feeling [of defeat] at the end of the game."
Thom Evans has recently embarked on a career in athletics, and Max admits that the thought of his brother back in the competitive field is great comfort.
He continued: "It's a lot easier for me to not have that in the forefront of my mind because of how well Thom's doing at the moment.
"It's very exciting what he's achieving at the moment, in terms of his sprinting. It's still early days for him, but he's starting to compete and he's in a position where you wouldn't know that he had broken his neck two years ago."