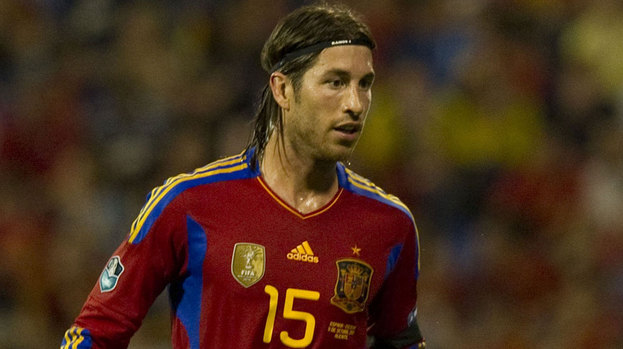 As the Rayo Vallecano players marched from the field at half-time on Sunday they did so to a chorus of "sí se puede " (yes, it's possible) reigning down from the stands.
Their opponents were Real Madrid and the club still in administration were holding the richest club in the world. More than that, they were the better side, sharp in the tackle and quickly on the attack the first 45 minutes were a microcosm of why Rayo have become one of the teams to watch this season.
Piti had a shot impossibly come off the inside of the post, fly across goal and come back out, Michu was denied by a last-ditch tackle from Sergio Ramos and Ramos shouldn't even have been there as his elbow on Diego Costa inside the box went unpunished.
This was Madrid's battle of unpredictables versus unbeatables (well, Clásicos apart at least) on Madrid's Super Sunday.
Favourites for relegation when the season began, Rayo have bucked every trend going so far, the only side in the league to win more points away than at home and who aren't afraid to cede possession if it means scoring goals, they have been a good news, exciting story in a league in desperate need of good news, exciting stories.
Yesterday was no different, even after the inevitable sucker punch eight minutes after the break as Cristiano Ronaldo ridiculously backheeled in only his 42nd goal in 40 games for club and country this season, Rayo still came back for more.
Michu, the league's top-scoring midfielder and the primary reason for Rayo's success this season, missed another glorious opportunity before Iker Casillas pulled off a miraculous save to deny Jose Casado a goal that would have matched any of Ronaldo's 123 strikes for Real.
The blows kept coming. Michu was shown red for taking his frustration out on Sami Khedira's ankles or as a friend pointed out "for not having the name Sergio Ramos."
But still in the final minute Emiliano Armenteros somehow failed to connect with the goal and the point that, they at the very least deserved, at his mercy in stoppage time.
Rayo were beaten, but were certainly not bowed or broken. The ovation at full-time was even greater than at the interval, Jose Mourinho accepted that not even he could deny Rayo deserved more. Yet at the same time he had to be delighted.
The Real players, indicating how difficult it had been, celebrated as if they had won the league (which they almost certainly have) and they have done so not by beaten Zaragoza 6-0, Granada 5-1, Osasuna 7-1 and Sevilla 6-2, but through 1-0 wins like this at Sociedad and Getafe, a late come from behind 2-1 victory at Mallorca, games in which last season they lost or drew they now have the strength to win.
It may not be Galáctico, but it is very Mourinho.
Real's win momentarily extended their lead at the top to 13 points, by the end of the night it was back to 10, but Barcelona too didn't have it all their own way as they needed controversial winner nine minutes from time by Leo Messi to beat Atletico Madrid 2-1.
The Argentine's free-kick was incredibly accurate but came as Atleti were still assembling their wall. Worse still it wasn't a new trick, Messi had done exactly the same to the same opponents four years ago.
The game showed very clearly the European champions' two faces this season. In the first-half they were close to their best, passing fluidly and pressing intensely, a combination that never allowed Atleti any time on the ball.
In the second it was a different story, now it was Atleti on the front foot and showing an aggression reflective of their manager Diego Simeone in his playing days. They forced mistakes, scored from a set-piece and ultimately forced Barca into what is becoming a worrying habit for Pep Guardiola; depending on Messi at one end and Victor Valdes at the other.
Guardiola admitted afterwards that the league is beyond Barca (whether he believes this or it is merely an attempt to pile the pressure on Real is questionable) but, he said, all they wanted to do now "is compete".
That is all the other 18 sides in the league have been trying to do all season. Madrid's Super Sunday may have been decided in favour of the world's two best teams by the world's two best players, but it was also a victory for the rest of the league who showed they too can "compete."
Around the league
Elsewhere, the "who wants to be in Europe less than the Tories" race for fourth place continued as Espanyol lost at home to Levante and Athletic Bilbao drew at Villarreal. Levante's first win in 10 means they are now back in fourth after being displaced for the first time in 12 weeks last weekend, but the big winners were Malaga.
They pulverised the league's piñata Real Zaragoza 5-1 to move to within a point of Levante despite having lost as many games as they have won this season.
The latest side making a desperate bid to look out their passports for next season are Sevilla as they continued their revival under new manger Michel with a 2-1 win at Valencia and are now very much back in the race despite having been atrocious between November and mid-February.
And at the bottom the tightest league in years may yet prove to be the most boring relegation race for a few seasons as Racing Santander and Sporting Gijon's 1-1 draw leaves them looking doomed to join Zaragoza in the bottom three come May.
You can follow Kieran on Twitter @kierancanning
More About World leagues