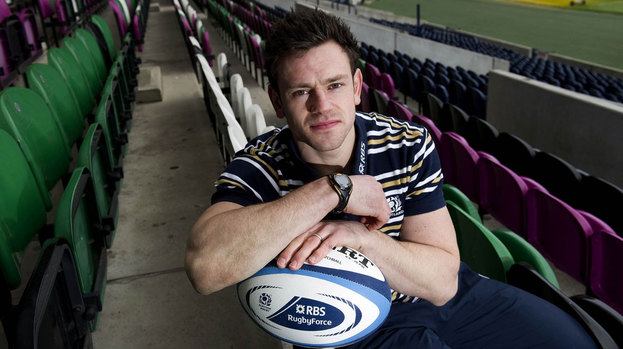 Centre Nick De Luca wants to make the most of his recall to the starting line-up by helping Scotland gain their first points of this year's Six Nations campaign.
The Edinburgh ace replaces the injured Rory Lamont for Saturday's match with Ireland and hopes he can help Andy Robinson's men out of their current slump.
The Scots have lost all their opening three matches this term and go into the clash at the Aviva Stadium as underdogs.
However the 28-year-old insists it's a role the Scots can use to their advantage, just as they did in a 23-20 triumph at Croke Park back in 2010.
He said: "It's been a very frustrating championship in general.
"We are performing better but we are performing for 65-70 minutes and, in that time where we are not on the ball, we have leaked a lot of points, or been yellow-carded.
"It's really important that all of us give an 80-minute performance and concentrate on whatever it takes.
"I think we were in this position two years when we went over to Ireland and we hadn't had a win yet, and put in our best performance.
"So I don't think you can doubt the energy and commitment that there will be this weekend and I'm looking forward to seeing everyone stepping up and performing.
"Bizarrely, even though we are not winning games, the confidence is high, and it will be similar to then.
"But Ireland are a quality side and we are fully aware that we all have to be on the ball."
Head coach Andy Robinson has called on his charges to maintain their level of performance after impressing in glimpses during the competition so far.
"The first 15 minutes (against France) we showed the way we want to play the game - the pace we had and the control we had in the game with different options," he said.
"Defensively we were very good. We just drop off for a couple of minutes and France score an easy try and that puts the scoreline at 10-10.
"That's the key for us, to understand that we have to perform for 80 minutes. We can't drop off at any stage.
"This weekend the breakdown is going to be a key battle. The Irish are very physical in and around the tackle.
"We need to get speed of the ball from the breakdown and we are working on techniques to get that."