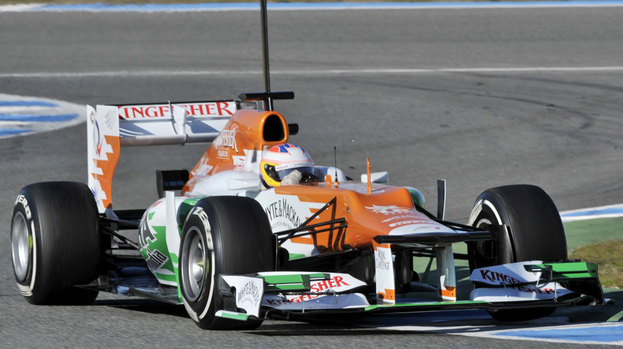 It's been some week in Formula One. The sport has been grabbing headlines across the world, and it's been nothing to do with any on-track action. For this weekend, the Grand Prix headed to Bahrain.
There had been questions, heated discussions and even walkouts over whether the sport should have been in the country at all while there is ongoing civil unrest. However, despite palpable paddock unease about the decision, all 24 cars took to the track on Sunday afternoon.
It was yet another driver who finally took the top step of the podium when the chequered flag fell. The fourth different winner in as many races, the first time this has happened since 2003.
However the face on the top step was familiar to anyone with even a vague following of the sport, current two-time world champion Sebastian Vettel. As a result of this race win, the young German is now top of the drivers' championship table. Who would have predicted that after the last few races?
Vettel delivered a near perfect qualifying lap to start the race from pole, but with less than a tenth of a second separating him from second place Lewis Hamilton, and under a second splitting the top ten, the race was set to be anyone's.
To add a little more doubt into the already murky mix, the high temperatures under which the Red Bulls thrive dropped off for race day. At one point it was 10 degrees below what it had been during qualifying. This led many to believe that this could finally be Hamilton's race to win, but the race unfolded into what can only be described as a disaster for the two McLarens.
Jenson Button was unhappy with the set up of his car from the start and had adjustments made to the front wing during every pit stop, but the pace never materialised. It looked like he would have to settle for a P7 or P6 finish at best, but it ended up much worse.
A left rear puncture forced him to pit just three laps from the end, but one lap later he retired with technical problems. The only slight silver lining is that because of this, the Brit will now be able to change his gearbox for the next race without incurring a penalty.
Left rear tyre problems were a running theme for the McLarens on Sunday as two disastrous Hamilton pit stops showed. His first stop on lap 10 was a catastrophic 9.9 seconds long, and his second was an even worse 12.2 seconds.The current average for pit stops is between three and four seconds long.
On both occasions the wheel gun for the left rear tyre failed to screw the nuts in properly and Hamilton was left frustrated while his mechanics scrambled to attach it properly. Even more worryingly, this is the third race in a row where poor pit stops have cost the team if not the race win, a decent points finish, and you have to believe there will now be a serious internal investigation into what exactly has been going wrong. Hamilton finally finished in P8.
The surprise pace during the race came in the shape of the two Lotus cars: Kimi Raikonnen and Romain Grosjean. Despite starting in P11 and P7 respectively, the drivers pushed their way through the pack with supreme straight line speed and, while at one point it looked like ex-world champion Raikonnen could challenge for the win, the team were forced to settle with second and third places on the podium.
This may in part have been due to a risky push at the end by Vettel; risky in that his fuel was running so low he was forced to pull over his car at the pit exit right after he crossed the finish line in order to ensure enough fuel remained for officials to test.
Sterling drive of the day however has to go to Paul Di Resta. The Scot managed to ignore all the controversy that has been surrounding the team this weekend and delivered a hard fought and yet maturely considered race, looking after his tyres so he only had to stop twice, one less than everyone else on the track.
Despite having older tyres than those racing around him, he defended his position well, managing to hold off the likes of Nico Rosberg for around four laps. He finally finished the race in P6, while his team mate Nico Hulkenberg crossed the line in twelfth place.
Di Resta's result was all the more impressive as the team didn't run at all during the second free practice session on Friday, citing security worries. The day before members of the team had been caught in a fight between protestors and police with petrol bombs and tear gas launched near their car. As a result two of the crew asked to return home, one of them was Di Resta's data engineer.
After the success of last weekend, the Mercedes suffered a relatively poor race. A problem with the new DRS system on Michael Schumacher's car during qualifying meant he dropped out during the Q1 session, and a subsequent five-place grid penalty meant he lined up to start the race on P22.
He finally crossed the line in tenth place and seemed to take out his frustrations of his run of poor results on Pirelli, and was heavily critical of the tyres in post-race interviews saying he was going to have a word with the manufacturers.
Nico Rosberg had a slightly different race compared to his maiden win in China last week. He lined up to start in fifth place but a poor get away saw him amongst the traffic battling back from P9.
Thereafter some particularly aggressive defending caused him to be the subject of two steward's investigations, both for forcing drivers (Hamilton and Alonso) off the track while trying to hold onto his position. Race officials decided that no further action would be taken against any of the drivers.
All in all, it was a good race but many still say it's an event that should never have happened, and I'm not sure I can disagree with that. Many may feel that it is wrong to comment on what we know so little about, but is sitting back and saying nothing any better after seeing everything we've seen and heard from respected journalists on the front line this week?
While it's hard to know what's truly going on in Bahrain from our sofas in the UK, there was never any doubt that there are currently serious problems in the country.
While F1 was undoubtedly stuck between a rock and a hard place with whether or not to race this weekend, it seems blatantly ignorant and small minded for Bernie Ecclestone and the Crown Prince to continuously say that the sport has "no political allegiance" and is there to entertain.
When a race is going to be overshadowed by very visible human rights abuses, how can it be the right decision to try and entertain with a sporting event?
The race went ahead, and on the plus side it can be said that as a result the opposition to the ruling Bahraini royal family had a good platform to get their views across.
But is that any excuse for visiting a country in turmoil and then while there, the teams being forced to ignore the situation and play a political game to race?
If you think that is possibly too harsh, consider this. When Force India announced they wouldn't be taking part in the second practice session, Bernie Ecclestone paid the garage a visit.
No-one except those directly involved knows what was said but how much of Force India did we as viewers see the next day during qualifying? A performance which saw Di Resta out perform two world champions and start in tenth place?
Despite Bernie's anger at "conspiracy theorists" saying the team was being punished for their decision, this seemed a crystal clear sign of the unspoken chess match that goes on behind the scenes in the world of F1.
To follow me in between races, I'm @JenBuchanan_F1 on Twitter.