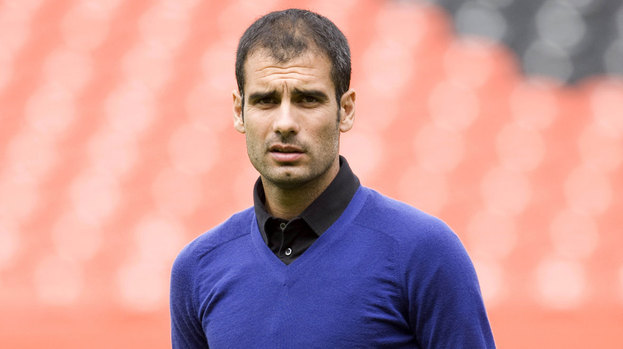 Barcelona's season has been one marked by numbers and milestones. 168 goals in all competitions, 63 of which for Lionel Messi, the Argentine even broke through Cesar Rodriguez's 60-year old record as Barça's leading all-time goalscorer.
Xavi Hernandez passed the 750 appearances mark and Carles Puyol moved in behind him as the club's second most capped player, but there is a real threat that within four days the number that really matters and really defines this Barcelona team as one of the greatest in history could go from 13 out of 16 to 13 from 18.
That is the number of trophies they have won in Pep Guardiola's incredible four-year reign, but any chance of number 14 arriving by way of a fourth consecutive league title disappeared into the night sky above the Nou Camp on Saturday as Real Madrid came, saw and at the 11th attempt under Jose Mourinho conquered Barça in 90 minutes.
That defeat and the losing of their league crown hurt more than anything for the circumstances under which it arrived. Guardiola has insisted since February that the league was "impossible to win", a statement which weakened in credibility and sincereness as Real let their then 10 point lead slip to four before the weekend.
Barça's 11-match winning streak in the league prior to the Clásico allowed those in the Catalan capital to dream. Now there is an altogether different and uneasy feel as they have lost two consecutive matches that actually matter for the first time in Guardiola's reign.
Only twice has it happened before, right at the beginning of his tenure when one of the defeats to Wisla Krakow only reduced their aggregate victory to 4-1 and again at the end of his debut season when, with the league already won, a team made up largely of youth teamers lost to Osasuna and Mallorca.
Hence the levels of slightly premature panic. Overturn the 1-0 deficit they brought home from Stanford Bridge and the Catalans could still walk away with five trophies at the end of the season.
However, there is also legitimate concern. One of the main differences between this season and Guardiola's previous three is that he doesn't appear to know what his best side is. The arrivals of Javier Mascherano, Cesc Fábregas and Alexis Sánchez were all made to bring depth and different options, but particularly in the case of the latter two, they have also brought a sense of confusion.
On Saturday, many were surprised as both found themselves on the bench - possibly suffering from their failure to take four decent chances between them in London – but the selection of Cristian Tello and Thiago Alcântara was in keeping with Guardiola's tendency to tinker in recent times.
Against AC Milan in the previous round it was Isaac Cuenca who was the wildcard, deployed wide on the left, with Dani Alves on the opposite side, to stretch the Italians across the full length of the pitch and create space for Fábregas and Messi in the middle.
On Saturday the same tactic failed to work, the Barça boss reacted angrily to those who criticised Tello in his pre-match press conference yesterday, but the 20-year-old missed two guilt edged opportunities and chose the wrong option on plenty other occasions.
Injuries haven't helped Guardiola's cause either. Those who dismissed David Villa's absence as more of a threat to Spain's chances of European glory than Barça's have come to see the importance of a man who, prior to breaking his tibia in December, had scored at least 20 goals in each of the past 10 seasons for Sporting Gijon, Real Zaragoza, Valencia and finally his current employers.
The loss of Eric Abidal due to illness has not only been a morale draining one amongst the squad, but a significant one from a footballing perspective as it deprives them of one of their few players with real physical presence, and Pedro's niggling injuries have prevented a player who has scored 45 goals over the past two season from gaining any form or momentum this campaign.
The absence of Villa and Pedro has caused a problem masked by Messi's incredible numbers. Whereas Real Madrid can boast Karim Benzema and Gonzalo Higuaín with 54 goals between them to match Cristiano Ronaldo's 54, Barça's second highest scorer is Fábregas with 15, only one of which has come since January.
Saturday was the first time Messi hadn't scored in a league game he had played in since February, it was also not-coincidently the first Barça hadn't won in that time. The gameplan for Chelsea might be quite simple; stop the World Player of the Year, stop Barcelona. Yet only twice this season has the 24-year-old gone two games without scoring, he hasn't gone three in a blue and red shirt since this time last year.
Which means it more than likely that to progress Chelsea must score. Those that praised their solid performance last week would surely have re-evaluated their opinion had Barcelona not squandered four clear openings. The reality is – as Real showed – the most effective way to beat Barcelona is not to crowd your own penalty area, but push high, break quickly and expose their frailties in the first 15 minutes of both halves and in the air from set-pieces.
Nine sides have taken points off the European champions in La Liga this season, five of them by scoring two goals or more. Only three times have they been held scoreless and only once on home soil.
Guardiola said a few weeks ago that success had put a physical demand upon his players that made it difficult to maintain the standards the world has come to expect of them. He returned to that theme yesterday, pointing out that progression will mean they have played every game possible in three out of his four years in charge.
That's 241 to this point and with five more definitely still to come between now and the end of the season. Nevertheless, the man from Santpedor will be hoping his 242nd in charge will ensure one more date is added to that schedule, possibly even his 12th with Mourinho and a chance to wipe away Saturday's pain with the ultimate redemption come May 19th in Munich.
You can follow Kieran on Twitter @kierancanning