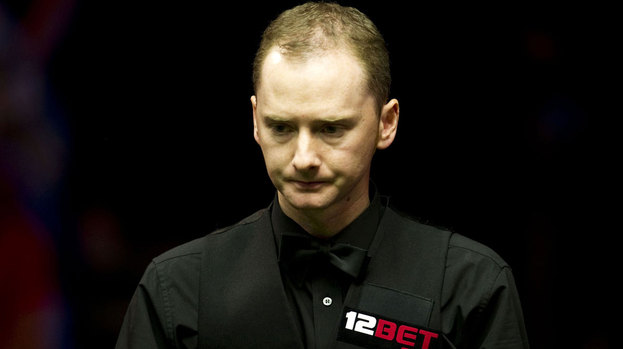 Former snooker world champion Graeme Dott described his 10-1 defeat to Joe Perry at the Crucible as his worst ever display as a professional.
The 34-year-old was out of sorts throughout the match and went into Wednesday morning's session 8-1 behind.
The 2006 champion was no match for the Englishman who won the two frames he needed to set up a meeting with Scotland's Stephen Maguire in the last 16.
Dott was in no mood to mince his words after the match, labelling his performance the worst of his 18-year professional career.
"I played terrible. I don't think I've played worse, not only at the Crucible but as a professional. I just couldn't pot a ball," the three-time finalist said.
He added: "If there was ever a nightmare in snooker, that was it.
"I don't feel I can turn it around just now. I feel as if I need to chuck it if I'm playing as bad as that.
"I'm sure I'll come back and play okay again, but I've no idea why I played as bad as that.
"I just wanted out. I couldn't pot a ball, I couldn't hit the white. If you told me to hit the white in the last frame I'd have probably missed it. I just couldn't do anything
"I've not really played well all season. But normally when I come here I play pretty well, but you can't rely on playing well here all the time. You're eventually due a stinker. But to play as bad as that is hard to understand, it's demoralising.
"I couldn't have cared less if it was a whitewash, what difference would it make? Ten-nil or 10-1, it's still a drubbing. I lost 10-7 to Joe Perry here once and he played fantastic, I couldn't give him any more high praise.
"But he's beaten me 10-1 there and he's played rubbish. Joe's not played well at all there. I'm sure he'll say he needs to play a lot better to win his next match."
Cambridge-born Perry agreed, adding he felt a degree of sympathy for Dott.
He said: "It is the worst I have ever seen Graeme play, we all know what a good player he is and one who won't throw the towel in.
"It was such a strange game, it was difficult yesterday seeing Graeme struggling and it started to affect me in the end, I felt for him and lost concentration.
"I know what it is like, I have been there myself, and I was just happy to get out with such a big lead at 8-1.
"I wasn't happy with my own game, and was just trying not to feel sorry for my opponent. As a professional sportsman you can't do that but it was tough.
"I wouldn't have particularly wanted to whitewash Graeme."