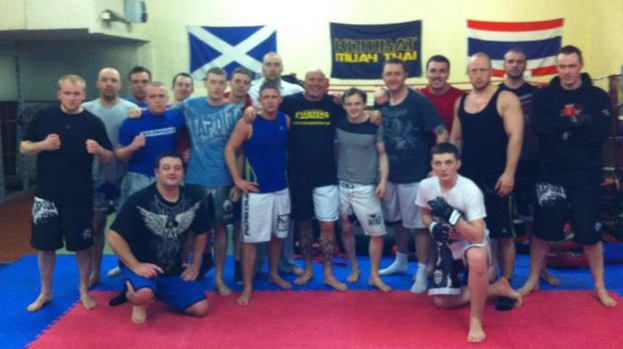 Coatbridge based Scottish Hit Squad / BJJ Scotland will take their stable of fighters to compete in a mixed martial arts (MMA) card being held at Glasgow's Kelvin Hall on Saturday, April 28.
The club will be hoping to continue their unbeaten success after picking up a haul of 52 BJJ medals since first fighting competitively six months ago.
Fighters competing from the club are Chris Bungard, an experienced fighter from a wrestling and kickboxing background, Kev Devine, an unbeaten fighter with experience in wrestling, Brazilian Jujitsu and boxing, Paul Craig and David McDonald.
Also fighting is club founder Brian Gallagher who has been working hard in preparation for his bout.
"Training camp has gone well. A couple of niggles at the start of the camp but going into the fight with no injuries," he said. "I have trained hard and smart."
Scottish Hit Squad have been competing in Brazilian Jujitsu tournaments all over the UK and are currently unbeaten in top UK MMA shows.
Gallagher, who is the MMA and strength and conditioning coach, has assembled a host of additional coaching talent to prepare their fighters in each discipline.
Marcos Nardini teaches Brazilian Jujitsu, a black belt in the art Nardini has also won medals in the top competition in the UK and US. Former WBU champion Lawrence Murphy is the boxing coach while Ireland's Jason McSweeney deals with Thai boxing. The wrestling coach is David McDonald, twice British and five-time Scottish English and Irish champion.
The experience and ability present in the club should serve the fighters well as they look to continue their unbeaten run and impressive medal haul.
The club will also have fighters competing in a grappling card being held at the Kelvin Hall earlier the same day. These are Mick Rodgers, James Gallagher, Paul Craig, Stuart McMillan, Broghin Taylor, Andy Cameron, Nathan Jessmier, James Campbell, Stephen Hamilton, Kev Jordan, Chris Murray, Damon Hosking, Colin Tait, Stephen Layden, Paul McDonald, Stephen Vasquez, Mark Malone, Allan 'Slice' McLauchlan.
For more information, visit the Hit Squad [website](http://www.scottishhitsquad.co.uk/)
Tickets for the event are available through ticketmaster.